It's not really a

, is it?? Today's challenge is to find and post a motivational quote, one that really speaks to us. i was delighted when a friend sent me this one yesterday; could she have seen what my day was going to turn into? It started out well enough; I was actually finishing my workout on the treadmill when the call came. Actually several text messages and one call.
The texts came from child #3. She had twisted her knee at work the day before, and not thinking much of it, went home and worked out on the elliptical. Upon waking, the knee was painful and swollen

"Mommy, what should I do????". #3 is hours away at college; Mommy transferred money into her account, and sent her to Walgreens to get a knee brace, Motrin and ice packs to use during her work breaks. We'll see what today brings!
The call was the one that took all my well laid out planned projects and threw them right out the window. MIL had fallen and needed to be taken to the ER for x-rays of her head, ribs, wrist. The last place I wanted to be was at the hospital with all the flu, norovirus and other crap going around. I had done my best not to get sick this winter and so far, so good! But what's a girl to do?? I got off the treadmill, stretched (another challenge this week), hit the shower, gulped down my antioxidant power drink, and with my hair still wet, headed over to the ER to meet the ambulance and MIL. This was at 8:30; by 4:00 we had the results - no broken bones and she could return home. Good news at the end of a very challenging day; at 92 years young, she was not coping well with all they had to do. I was both mentally and physically exhausted.
Fortunately for me, I had a hot stone massage scheduled for that evening, and I was able to make my appointment. We chatted briefly about my day, and my therapist said "what you have given her today will come back around - you are a good, loving person".
Okay, I'm finally getting around to that motivational quote!!!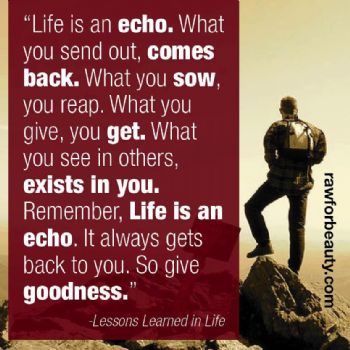 It couldn't have come at a better time; it couldn't have been more perfect!!! It was just what I needed to hear before I tackle today's challenges!!!
Happy Sunday Sparkers!! Wishing you all a peaceful day!