HIDING IN THEE
Words: William O. Cushing, 1876. Music: Ira D. Sankey, 1877
HIDING IN THEE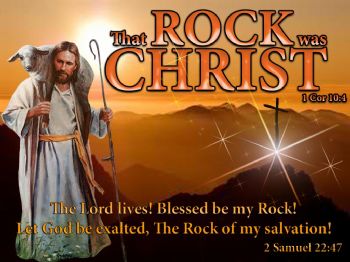 O safe to the Rock that is higher than I,
My soul in its conflicts and sorrows would fly;
So sinful, so weary, Thine, Thine, would I be;
Thou blest "Rock of Ages," I'm hiding in Thee.
Refrain
Hiding in Thee, hiding in Thee,
Thou blest "Rock of Ages,"
I'm hiding in Thee.
In the calm of the noontide, in sorrow's lone hour,
In times when temptation casts o'er me its power;
In the tempests of life, on its wide, heaving sea,
Thou blest "Rock of Ages," I'm hiding in Thee.
Refrain
How oft in the conflict, when pressed by the foe,
I have fled to my refuge and breathed out my woe;
How often, when trials like sea billows roll,
Have I hidden in Thee, O Thou Rock of my soul.
Refrain
---------------
SCRIPTURE: "O Lord…I hide myself in Thee." Psalm 143:9
PRAYER: Lord Jesus, You are our Rock, the Rock of ages and the Rock of our salvation, as the Scriptures say. To this Rock we gladly flee, when persecuted or tossed and torn upon life's billows. We are not promised an easy life when we come to You for salvation, rather we are promised that You will guide and protect us through all of life's rocky seas; seas that are common to all mankind. There is no place we would rather be, than living in Your Presence with the blessed assurance we have, of hiding in Thee. Where could we go but to the Lord, whenever we are happy or whenever we are sad? Why would we want to flee to any other place or any other Person, than to You our Comforter and Advocate and Saviour and Lord...and our Best friend. Life without You would be no life at all, and we are so thankful You came for us, saved us, and keep us. Our hearts overflow with such joy when we praise You Lord...for this is Your most precious gift, that when we are in Your will, we are so filled with the joy and peace that passes understanding (in the midst of all our trials), that we can hardly bear in these weak frames, such assurances of Your Presence and love for us. We await the day our faith shall be made whole, and we shall see You face to Face. Until that day Lord, we hide in You, and thank You that we can. In Your precious and mighty Name, Jesus, we pray. Amen.
--------------
LISTEN TO THIS HYMN (MEDLEY) ON YOUTUBE (with LYRICS):
youtu.be/oNZ5VDVX
0Qo
(Note: This hymn is posted today especially
for my friend EDITOR, who loves it.)
SOURCE:
cyberhymnal.org/h
tm/h/i/hidingin.htm
=================