Saturday, March 09, 2013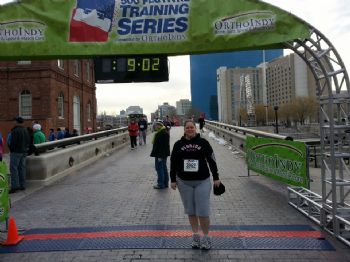 OMG OMG OMG... finished my first 10k in 10years... I am 65lbs heavier than then, and have had 3 kids. I am so proud of myself for finishing! My time was 1:22:48 seconds... which is a 13:20 mile. My 5k was a 12:40 min mile. Slower this time but, I had a HUGE set back last month and didn't workout once. All of Feb. was an off day. Was just tired or not feeling it. I can not tell you why cause I do not know.
This month will be different though. I will work out this month. Next month I have my first EVER 15k... NEVER ran that far before. I'm scared, but I know I can do it. Even if I was to walk I would be able to finish it. I am just so proud of myself right now. It's a HUGE deal for me. My husband ran with me. I am so happy he did. He goaded me and irritated me and everything in between to run more. Then he was sweet afterwards and posting to all his friends that "His baby did great" I love him. He can be such a jerk sometimes, but he is my jerk!
I am thinking I need to set better monthly goals. I am horrible at long term goals. I am actually quite surprised I've managed to continue on as long as I have. I allow myself to be set back. I need to start hitting the gym and hitting the road more this month. I am going to make myself run outside at least twice a week. I can not run in the gym on the treadmill anymore. I get on the treadmill with headphones on and I get tired of the headphones. Outside I play the music out of the speaker on the phone which is attached to my armband. HAHA that was so fun today. SO MUCH BETTER than the 5k last month. Last month was dogging along no music, today had my phone on pandora with lady gaga selected. OH YEAH. Actually had several people compliment me on my selection. hehe if only they knew. OH well that's the end of my self congratulations!
I am happy and sore