Friday, March 08, 2013
We have just returned from our short holiday at my daughter's at Barwon Heads - we were "dog sitting" her dog Darcy whilst they had a few days away. They say "a change is as good as a holiday" and I certainly agree with that. It was wonderful to be back near the ocean again but the heat has certainly hit me hard. How you girls that have it all the time manage I will never know.
Any way back into the program again as while away everything came to a "roaring stop" she has no internet down there so I just went mad and ate all and sundry - the only thing I did right was drink my water.
Well girls - here I go once again.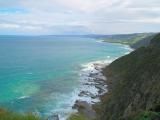 Love and

Jenye.