Friday, March 08, 2013
So, I'm telling everyone and their mothers about this quilt because it is my first and I know now that I will need support also some friendly reminders to keep up the hard work, lol.
I found it on Pinterest and made the (good) mistake of telling my 4 year old that I wanted to make this for him. He was all over it after that asking me numerous times a day if we could go to Hobby Lobby and start making it. Of course I folded! :)
At first I was planning on just using a template to trace onto the material so as to cut it out; then I thought of iron on grid paper; then I called grandma. She went to JoAnn's right away and hooked me up with a rotary cutter, cutting mat, and wide ruler thingy. Score! Now I have a good shot at this, I'm excited!
Here is what the quilt will look like!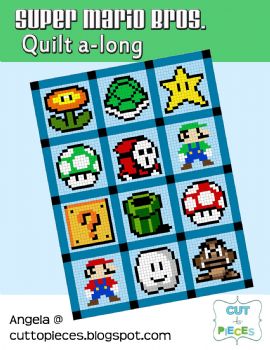 This quilt is made up of about 3,888, one and a half inch square pieces! WAY!!
Much love goes out to my boyfriend, his mom, and my girlfriend for letting me believe I could truly do this all with just a pencil, some cardboard, and my scissors. That is love, lol.

Nikki :)