Days #354~357: I am up a pound & it is YUCKY! My first week of maintenance! Photos Flash Mob, Oscars
Friday, March 08, 2013
So my first week of maintenance and I am up a pound! YUCK! There are just too many calories for me to eat at this time. Also, I have been trying the Raw food diet & good food combining, after a 2 week trip, I am wanting to get back to it, but I'm hungry all the time! So I am adding back into my program what I know works for me! 1 cup 1% Cottage cheese & 1TB. trader joes strawberry fruit spread. This has been my 'go to ' food since I started Spark People. It is not good food combining, but I REALLY need to have my hunger pangs back to normal. That is how I keep on track! I will still try to not mix starches with proteins, fruits alone & a TON more veggies & green lemonaid. I DO have SO much more energy..... but waiting 3 hours inbetween these mini meals is just too much! I have always said I will follow what my body needs. My 'real' comfort foods is what works best for me. I have broken several of my records, on this day #357 but as I say, "Oh! Well!"
Next week is my 1 year Sparkaversary. My goal is to be at my goal! Right now I am up a pound. So I will be focusing on getting back down & NOT worry about getting my gold star for eating perfectly, every day. I have made it this far, I'm not ready to give up now! My struggle with weight is not the losing it part. But STAYING here!
I was traveling for the Oscar events for 2 weeks & did really well. I was SO looking forward to catching up with my Spark Friends, while I was in Hollywood. That is where I go for 'me' time. But the internet was so slow & would blank out after I would write, bummer! Now home with LOT's of catching up to do, work wise. We are going out of town for a few days on business, so time to Spark is being crunched up again! I DO NOT LIKE THIS! Sparking is how I feel connected to my support system. By the time I get everything done, I'm ready to drop into dream land for my 8 hours. It IS what is best for me.
I KNOW we all struggle with time, I am going to quit struggling & just have fun doing what I can & move into each project with vibrancy & happiness & joy, that I have found Spark People, my Spark Friends AND Spark Radio. Playing at my Spark program is what is helping me be the healthiest I have been in decades! Finding ZUMBA; walking; hiking; swimming; Flash Mobbing; Pilates are all helping me with energy to burn for working & keeping our home up. I am SO blessed to have a home! There have been times in my life, I didn't. But that is another story I may just write a book about it!
Thanks for YOUR time reading this, your support helps me, even when I don't respond to you! I think of YOU everyday, all the time & as always, send you love!
*~LIGHT

Photos of Flash Mob, Hiking Hollywood, Oscars, & family visit in S.Cal.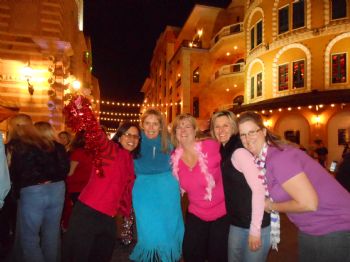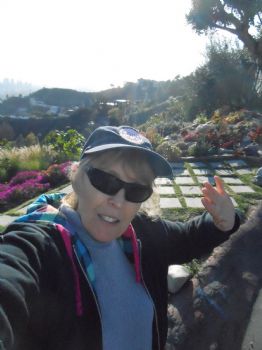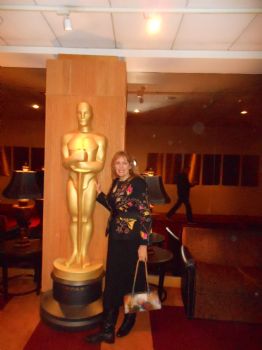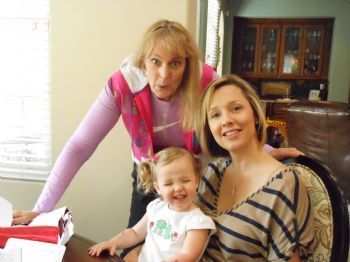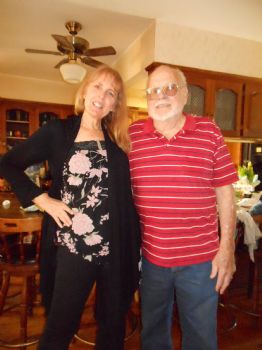 Member Comments About This Blog Post
FLORIDASUN
An occasional pound up or down is just the typical day in any American woman's bathroom. Never fear...you are doing GREAT!


1659 days ago

KMEYERRING1
I can completely understand how you feel gaining the 1 pound, but that is so managable. More water, a little more movement, changing what you're eating, can all make that pound come off so easily. Just take it one day at a time, you're doing great and are a real inspiration to those of us still trying to get to our goal weight...it's shows that it actually can happen. You have lots to be proud of so don't be to hard on yourself. Stick to what has worked for you because what you did...obviously worked!!




1661 days ago

FLASUN
For all you have done!!! Stay Positive and don't let breaking your maintenance get you discouraged!!!! I just know..... and also so happy to see you won the 100 Goodie Points!!!


1661 days ago

ANGELUS__QUINN


You just started maintenance, so right now you're in the process of learning your needs in this phase. Don't let a pound freak you out, just make adjustments until you figure your nutritional needs. You can do this!!! I know you can!!!


1661 days ago

MISSUSRIVERRAT
This is my opinion only.......
Weight fluctuates a few pounds.
When you have a goal weight you have to hit 2 pounds below your goal weight, if you want to maintain your goal weight.
Example: Real goal weight 140 (just picked that number, not saying it is your goal)
In order to maintain that most of the time, hit a low weight of 138.
Then after that, you would be able to maintain 140 as your "normal" or "average".

Another opinion....
Once you hit your low weight (2 pounds below your real goal weight), then you cannot change your behavior much from what it took for you to get to your goal weight.
That is why we have to understand the lifestyle concept. It is the same behavior that we have to keep up forever......except that since you don't want to lose any more weight, you can eat slightly, and I do mean slightly, more. How much more is a delicate balance which you will need to figure out. Then, as changes take place in our lives and/or bodies, the amount that we can eat and not gain weight would then have to be modified by activity level and age (metabolism slows with age), or muscle mass that we may have built or are trying to build.


1661 days ago



Comment edited on: 3/9/2013 9:07:48 AM

BOOKWORM27S


Weight maintenance is a daily battle for me. The struggle never ends....


1662 days ago

SOULCOLLAGESUE
I hear soooo many positives in your blog. It is natural to shift a few pounds, depending on one's monthly cycle (water retention, weather, hydration, digestion, etc.). You've done tremendously well, super awesome accomplishments! Stay with what is known (if it ain't broken), do your math (calories in v. out), and you'll continue on your road to health. Don't let the anniversary stress you out. I'm so very proud of you!
Sue


1662 days ago

SPARKFRAN514
Here is your late Friday motivational "pep talk" and some "Weigh In Wisdom":
Don't give the scale more power than it has earned. Steve Maraboli,
Remember "You are what you think" so think positive thoughts always!
Don't beat your self up over 1 pound. Remember our weight changes thought out the day water weight close to meal time early morning evening shoes on shoes off cloths on ... what room are in my weight can change from room to room how you stand on the scales . weight at the same time in the same clothing it all adds up
when we reach our goal we still need to track what goes in our mouth
Just keep tracking your food. Here is a quote I received from a Spark friend this week when I had a slipper walk on my journey Watch the BLT's -- the bites, licks and tastes they get us in trouble. and how right this sparker is with that statement.
Please don't beat your self up take a deep breath and enjoy being at your goal weight and enjoy the award of reaching your goal. when i was going to Weight Watchers about 33 years ago they gave you a five pound range then you were over goal.
enjoy your trip .



1662 days ago

THOMASINA57
You have done so well and I agree with the others that one pound really isn't anything to worry about. Most people flucuate from day to day and for me, even eating an evening meal with breans or grains will make me weigh heavier the next day and usually drops the next few days. Water retention is a biggie too!

Allow yourself a few pounds over and a few pounds under your goal weight for a healthy maintenance. Do you belong to the maintenace team.. it's great and really active and has lots of "maintenance" challenges to help people stay within a 3% range either direction for their goal weight.

I love your blog.. you are so full of life, so keep on Sparking!! You are successful already!


1662 days ago

SLENDERELLA61
Don't overreact to one pound. Weight fluctuates, even 5 pounds in one day, not counting clothes. One pound may or may not be significant. I am 63 years old and losing slowly on 1510-1860 calories. (SP is set for me to lose 6 pounds in a year.) I do burn at least 2200 calories per week running and cross training, so that is a significant part of my program. You should be able to eat more than 1500 calories unless you are very sedentary or have other issues. If your metabolism has slowed due to fad dieting, eating healthy and being active are the things to do for it.

The most important thing is to keep trying. As long as you don't give up, you will succeed. Track your food. There may be something to all those food combinations, but I don't worry about anything except hitting my range of calories, fats, protein, carbs, fiber, calcium and a few other nutrients. Works for me! Keep at it until you find what works for you. Take care, Marsha


1662 days ago

JODROX
My advice is don't freak about 1 pound. If you're exercising and eating right, it will even out.


1662 days ago

ROCKMAN6797
Just be conscious of what is happening and make the necessary adjustments. That is what maintenance is all about.




1662 days ago

JULIAINLA
I w9nder if there are some other (healthy) foods that are more filling for you yet satisfying? I like soups right now-really seems to help. i know how difficult it can be- hang in there.-You're doing great!


1662 days ago

MEXGAL1
Congrats on one year....believe me, one pound is nothing. Do not fret. You will always fluctuate up and down and sometimes even more that none pound depending on your food and combinations and such. It all depends on your body and what works for you.
Just know that you are eating healthy and doing the right thing.
Best of everything to you.
Sallie


1662 days ago

SNOWFLAKELILYM9
You've done so great!!! To lose one pound for your Sparkversary is completely doable. Extra lean protein, lots of fruits and veggies, and nuts and seeds, concentrate on those foods. You can do it!!!



1662 days ago



Comment edited on: 3/8/2013 6:59:19 PM
MSLZZY
If you are up one pound ON your SParkversary, that would be a different thing. Wait until then and see if that stubborn pound doesn't vanish by then. HUGS!


1662 days ago

JESSIKA_56


Wow, sounds like you are busy! Don't be too hard on yourself for being up a pound - maybe it's just water weight!


1662 days ago

HALO1015
Don't let a pound get you down!

Keep Sparking!




1662 days ago

NIGHTSKYSTAR
I so understand your panic but please try not to. one pound isnt a big worry...if it hits three up or down you want to be very careful. five is the stop light. you have done so well..this will be fine!!


1662 days ago

BLUE48DOWN
Another Sparker, TINAJANE76, mentioned a 3% range rather than trying to stick it to 1 or 2 pounds. I don't know if you saw her recent blog on a year of successful maintenance. If not, it's worth checking out: http://www.sparkpeople.com/mypage_p
ublic_journal_individual.asp?bl
og_id=5275387


1662 days ago

ARCHIMEDESII
I think you've made great progress in the last year !! And I agree, don't worry about a pound. That's nothing more than water weight. I can gain or lose as much as 3-4 pounds in a day because of a shift in my water weight.

So, don't freak out if the scale goes up while you're in maintenance. That doesn't mean you're doing anything wrong. Our weight really does fluctuate for different reasons from day to day and even week to week. If your weight stays within a general range, you're fine.

You know you're eating sensibly, that's what counts.

I've never done a flash mob. they sound like fun.




1662 days ago

MAUREENIE1
You have done so well this past year. Good for you!


I know when I don't eat enough protein, I get hungry before my next meal. I have started eating hemp hearts. I just take a spoonful at a time. I can't believe how much less hungry I am since I have been eating the hemp hearts. They are very high in protein and a perfect balance of fats and such. I know that it works very well for me. I also heard that when you eat hemp hearts that your cravings for unhealthy foods disappear. I can't remember why, but I have found that to be true for me.


1662 days ago

HOLLYM48
Do what is best for you for sure! One lb is nothing, we all fluctuate so keep up the great work and remember that scale is just a number. Judge by your clothes and how you feel. Way to go!


1662 days ago



Disclaimer: Weight loss results will vary from person to person. No individual result should be seen as a typical result of following the SparkPeople program.
More Blogs by SPARKLINGME176