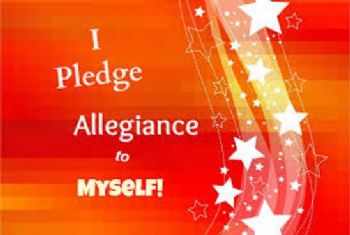 This week we have been focusing on the second statement of our Pledge of Allegiance to Ourselves. It simply states: "I promise to stop the self-criticism, negative self talk, and to be present in each moment to stop and acknowledge my negative thoughts, and how I am feeling. This will help me realize that almost everything my inner critic says is not true, and to change my beliefs."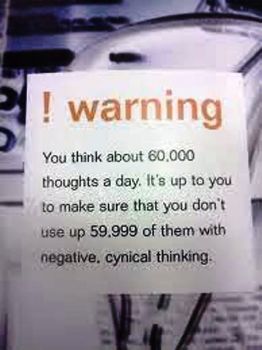 Every minute of every day there are thousands of thoughts flooding through our brain. We have the job of either dismissing the thought or choosing to think more about that particular thought. Those disparaging messages about our bodies can play over and over in our brain like a bad, Grade B movie. As bad as it is, we just keep watching. It repeats over and over again, until we hit the pause button, reflect, and hit delete. We have to learn that fine art of editing. With negative thoughts, that loop of film just gets stuck on play!
Your brain is veritable multi-media library that holds positive and negative "voice overs" - things that were said to us in our past, images, and movies of past successes and failures. And you need to think of it this way. Try this exercise:
• Think of something in your past that was an accomplishment for you. Visualize it as if you were watching a movie.
• Now, remember something that you always heard from your parents, family member, friend or teacher that bothered you then, or still bothers you now.
• Is there something your mind always says to you when you make a mistake?
• Is there an event in your past that you'd like to forget, but can't?
Here is a list of the ways we can develop these negative thoughts over time. As I said in a previous blog, we're not born with these thoughts. They come to us from family members, experience, friends, society, and many other venues. I thought it might be interesting to understand the different types of negative thoughts that flow through our minds. See if you recognize any of these in yourself:
1. All-or-nothing thinking: You look at things in absolute, black-and-white categories. Perfectionism is another example. It's true or false kind of thinking.
EX: "If I don't do it perfectly, I failed."
2. Over -generalization
You view a single negative event as a never-ending pattern of defeat.
EX: "Because I felt uncomfortable at the game, I don't have what it takes to make friends."
3. Mental filter
You dwell on the negatives and ignore the positives. Doesn't this cause you to feel defeated, and to give up? You made a mistake, and laser-beam on that in spite of doing most other things right.
EX: "Because I ate that piece of birthday cake, even though I stayed on track this whole week, I won't meet my goals this month."
4. Discounting the positives
You insist that your accomplishments or positive qualities don't count.
EX: "I did that project well, but that doesn't mean I am smart; I just got lucky."
5. Jumping to conclusions - Mind Reading
You assume that people are reacting negatively to you when there's no definite evidence, or you arbitrarily predict that things will turn out badly, and imagine the worst case scenario. You believe you know what others are thinking of feeling about you.
EX: "He's thinking I don't know the first thing about Math." "She's looking at me because she thinks I'm too fat." "Oh no, my brakes are squeaking. I bet it's gonna cost me a fortune."
6. Magnification or minimization
You blow things way out of proportion or you shrink their importance inappropriately (magnify the negative and/or minimize the positive). You are very critical of others, magnifying their imperfections. Conversely, you minimize your positive qualities.
EX: "Getting a bad report card proves I don't know anything. Getting good grades doesn't mean I'm smart."
7. Emotional reasoning
You think something must be true because you "feel", actually believe, it so strongly, ignoring evidence to the contrary. If you feel stupid or boring, you must be stupid and boring.
EX: "I know I do a lot of things okay at work, but I still feel like I'm a failure."
8. "Should" and "Must" statements
You have a fixed idea of how you or others should behave, and overestimate how bad it is that these expectations are not met. People who break those arbitrary rules we set make us angry. On the flip side of this, we feel guilty when we break our own rules.
Shouldn'ts, musts, oughts, and have to's are similar offenders.
EX: "I shouldn't have eaten that whole dessert." " "I must always do my best."" I really should exercise. I'm so lazy." "He should have been more careful."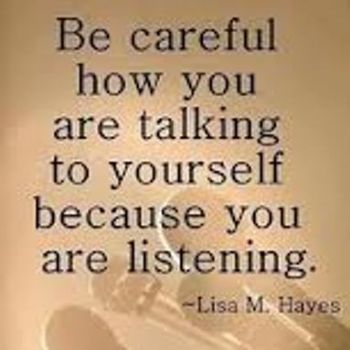 9. Labeling
You put a fixed label on yourself or others. Instead of saying "I made a mistake" you say to yourself, "I'm a such a jerk", or "I'm so stupid!." You identify with your shortcomings. In doing this, you strip away your control over your actions, and you'll feel - why bother?'
EX: "I'm a loser." "He's no good." "She's perfect." "I'm such a klutz!"
10. Blaming
You hold others responsible for your pain, your failures, or blame yourself for every problem, overlooking ways your own attitudes and behavior(s) might contribute to a problem. Either way you see yourself as a "victim".
EX: "My brother always yells at me to make me feel bad." "My parents are fighting so I must have done something wrong."
11. Catastrophizing
You predict the future negatively without considering other, more likely outcomes. You expect disaster. You notice or hear about a problem and start "what-ifs". You worry.
EX:"Bob said he'd be home no later than 7. It's almost 7:30. Maybe he's been in a car accident."
12. Personalization
You believe others are behaving negatively because of you, without considering more likely explanations for their behavior. You also compare yourself to others trying to determine who is smarter, better looking, more productive, etc.
EX: "My husband was short with me because I must have done something wrong."
13. Tunnel Vision
You only see the negative aspects of a situation.
EX: "My husband can't do anything right. He's critical, insensitive, and lousy at being a father."
14. Faulty Belief of Change
You expect other people will change to suit you if you just pressure them enough or cajole them enough. You need to change people because your hopes for happiness seem to depend entirely on them.
EX:"If I pester my Mom enough, she'll let me go out this weekend." "If I complain enough, my Dad will stop drinking and then I'll be happy."
15. Being Right
You are continually on trial to prove your opinions and actions are correct. Being right is more important than the feelings of others, including family members. Being wrong is unthinkable and you will go great lengths to demonstrate your rightness.
EX: "I won't listen to you because I know I'm right." "I don't care how much you hate to fight. I'm going to win this argument because I'm right."
psychcentral.com/lib/200
9/15-common-cognitive-dist
ortions/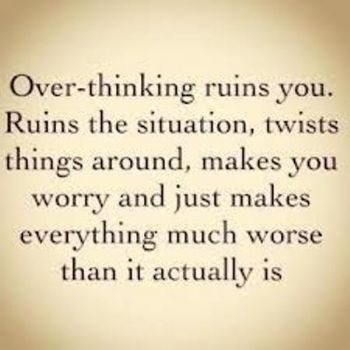 So how many did you recognize in yourself? I was surprised at how many I have been guilty of at one time or another in my life so far. You can't really banish all negative thoughts. They are going to come. The longer you dwell on the negative thinking and images that enter your mind, the harder they are to let go of and to move on from them.
You just need to be prepared for them, be ready to identify and objectively look at them, and be ready to let them go so that you can move forward and on to more productive thoughts.
Thanks for stopping by!
***Google Images***