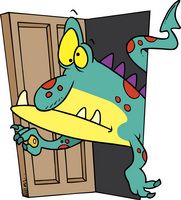 Last night was horrible. I was awake in the middle of the night for several hours having those depressing, I can't do it, it isn't going to ever get better, thoughts.
I've decided to take it like a bad dream and do everything I can today to make things "normal"/better.
For example, I haven't even unpacked my suitcases from vacation yet! And I have all sorts of little things like that scurrying around in my head. So, I got up this morning, showered, noted there's no soap (why didn't I order some last time I put a bar out?) grabbed a liner bag for my new recycling can, grabbed all my dirty clothes (I am running out of clean :-) and have a load going now.
Yesterday I told my SparkCoach program that I'd done all my Fast Start goals and I didn't do even one of them! So, I've checked them all off again, and today, I'm doing them all. I weighed myself and have lost nearly a pound and the week is not through yet.
The bed is going to get changed, vacuuming is going to happen :-) books are going to be bagged to be given away. Right now? Soap is going on the list.
I got more sleep last night than the two nights before but with more distress. I'll be interested to see if I sleep easier with fewer things niggling at my mind. Oh, there is a real cobweb, I noticed it when we got back from vacation; it's on the ceiling beside one as you descend the stairs. It isn't going to be there in a moment.
Most of last night was worrying about if my husband gets sick and I have to take over finances and taking care. Today I'll be seriously starting to learn about the finances, whether I want to or not. There are always consequences; sure I can play my fiddle and dance with the grasshopper instead but winter will come!