Wednesday, March 06, 2013
I found a website that shows what fat really looks like. It sobered me to begin thinking about getting upset over only losing a pound, or only 5 lbs....
So, I feel that losing only 1 lb is really looking pretty good!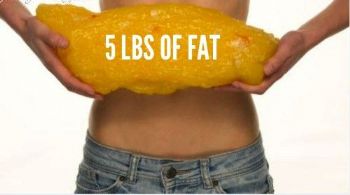 WOW, I've lost 6 of these already but until I saw this picture, I didn't think it was a big deal!
AND LASTLY, this is a comparison of 1 lb of muscle, compared to the size of 1 lb of FAT!

So this is what Strength Training can do for you, it burns the fat, replaces fat with muscle which makes you smaller !!
Lastly, here is a pic of an actual muscle that weighs 5 lbs, and guess what?? The FAT also weighs 5 lbs too!!!!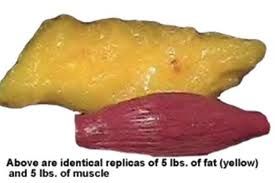 THIS PIC MADE ME THINK ABOUT THE FAT THAT SURROUNDS MY BICEP ARM MUSCLES!!
FAT SEEMS TO BE 3 TIMES THE SIZE OF MUSCLE. THAT MAKES ME BRAIN BEGIN TO THINK!
I THINK I WILL BE GOING TO THE GYM MORE FREQUENTLY, OH, AND TWEAK MY DIET SO IT HELPS ME BUILD MUSCLE TO MAKE ME SMALLER AND STRONGER!! I THINK I WILL USE MY FITBIT TO MOTIVATE ME TO DO MORE CARDIO WALKING AS MUCH AS POSSIBLE TOO!!!