uhhhh... DERRRRRRRRRR Stacey!!!! LOL
Its kind of funny how the obvious isn't always so obvious when you're up to your eyeballs in pooh. I think sometimes it takes being sidelined for a while and taking a huge step backwards to realize just how much being healthy and taking care of yourself matters, and just how much you truly miss it when you are side tracked with other "stuff." Especially when you hop on the scale oh say OH F****! True story... That happend... Yesterday.
I don't like to make excuses, but I know sometimes there are just things in life we have to give ourselves a free pass for. It's hard when you aren't in the right frame of mind to remember that though. I know I certainly could (and should) have done better throughout all my health problems the last weeks, but--shoulda, woulda, coulda. I know I had an "excuse", but seriously... I didn't NEED to eat half the tub of cookie dough. It really didn't help... But, there's no use crying over spilt soy milk now. All I can do now is move forward, put the UMPH back in my step, and do better.
I started last night with a stellar grocery shopping trip. Literally the only things in my fridge yesterday were frozen corn dogs, lots of condiments, a few eggs, some milk, and a ginormous tub of cookie dough (half eaten... and yes, I take responsibility)..
I decided since my body was in such poor shape for so many weeks, and I ingested far too many pills and chemicals for my liking, it certainly put my immune system in the crapper no doubt. I commited this shopping trip to clean, healthy, & nutritious foods. Hubby and I decided to stay off the animal proteins for a bit and focus on fresh nutrients and other non animal based proteins (except eggs.. I cant give up eggs). Esp since I don't know what kind of kindey stone I had, sometimes they develop from too much protein. Calcium too, but I probably consume too much protein before I hit too much calcium.
Here is what my shopping trip looked like :) Even Dwight from The Office approves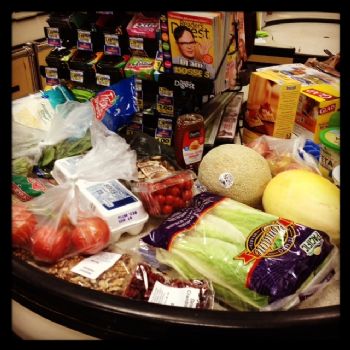 goal #1: eat a balanced, clean diet
goal #2: continue hydrating (since the UTI started I've been drinking my weight in water daily).
goal #3: Log my nutrition
goal #4: Throw the cookie dough OUT
goal #5: Once I'm totally pain free start moving and shaking.
I blogged yesterday some photos of recipes I found on Pinterest as my inspiration for my meals this week. Here's my first one, lunch today. Cottage cheese, tomatoes, cucumber, avocado, and pepper. I never used to like cottage cheese, but I have to say it seems my taste buds have changed since my last attempt. I will be doing this one again.
this was pinterests's photo:
Here is how it turned out: not that it's hard but woo hoo looks just as good (and it was)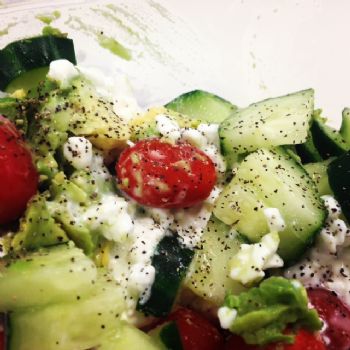 Tonight I'm attempting the southwest stuffed spaghetti squash: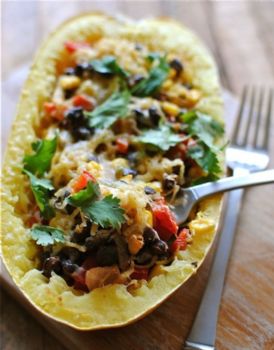 wish me luck :)