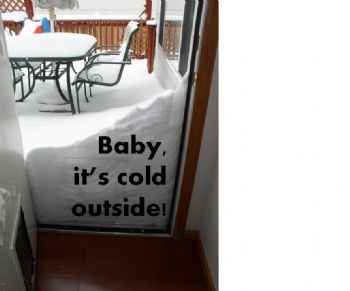 This week has been a bit harder than normal. I'm not depressed - but just a bit down - more in my thoughts (not negative or positive - just thoughts).
A lot has been happening - or is going to.
A very dear friend of mine - I met her 10 or more years ago. She is my grandmother's age - but yes, we are friends - and we consider one another family. She was the first person - aside from my husband - to hold our first daughter the day she was born. Trust me - this meant a lot to my friend. She has no family to speak of - they are either no longer alive - or they have ostracized themselves from her. So - we adopted one another - because (aside from my husband and kids) - I also am without family. Yes - I have family - but we are not close and aside from calling to borrow money - I never hear from them.
A few years ago she suffered a health setback - she has always struggled with health issues but has never let that stop her. However, this time she was put into a nursing home. It was hard - at first - for all of us but it is good for her. She struggles with depression - and being around people - and definitely having people who can make sure she is okay is a huge benefit. She almost died because she stopped taking care of herself - wouldn't answer calls - wouldn't open the door. It is just something she struggles with.
On Friday night I got a call from the nursing home that she was not being responsive and her fever wasn't responding to medicines. She went to the hospital and she couldn't even speak. Fortunately, after a few tests they found out that she had pneumonia. She had a urinary infection earlier in the week - and the nursing home thought she was having difficulties because of that. She is in the hospital now - and she is recovering. DH has gone to visit her several times and I have gone once - will go to see her tonight again. I just feel bad - because if I was in her position, I would want so badly to be surrounded by family - by those that I love. She sits there alone - and I know that us being there for her makes a huge difference - but I can't help but feel bad for her.
I can't tell you how just walking in the room to visit her - brightens up her face - and when the kids go to visit her, her eyes light up. She really loves us a lot. I am fortunate to have her - and I just wish I could do more. However, the nursing home is about 30-40 minutes from my house - and she refuses to move from there (she hates change and prefers to stay). We can only visit so often - and we tried having a phone in her room but she refused to use it. So, I am doing what I can - and just hope it makes a difference. So yeah, I am feeling a bit down about that - wishing I could do more - knowing I can't because my plate is so full - wishing things were different for her - and knowing they can't be.
I will be fine - and hopefully she will get out of the hospital soon. I have devised a plan with dh to visit her once a week. We try to visit as often as we can - but sometimes our visits are stretched out because of homeschooling, weather, illness, etc. I usually try to bring the kids but worry about winter time when there is a lot of sickness going around. So, we will try this routine instead and see how it works. I feel a bit better knowing we have a plan and we will work on it together. Did I ever say, he is awesome!
There is good news this weekend - nope, I unfortunately did not work out as we went several times to the hospital and it took a huge chunk of our time. That's okay - I will keep at it. No, the good news is that I found a new Pilates Reformer. I had one of the old ones (found it on Craigslist) but it did not have the rebounder. At first I thought I could add one - but I later found out that it wouldn't work with one - they made that model before they had rebounders and its frame wasn't strong enough. So, I found one this weekend (really cheap - on Craigslist again) and I forwarded the link to dh. He has been really excited to see how much I love my reformer - he has seen me work out on it and he knows it isn't always easy - he has tried and he really isn't as flexible as I am (for now). Who knows?!? Anyway - he decided to get it for me as a gift and we are going to sell the older one. YEAH!!!
So, I am working on learning how to get a good workout on the new parts. I am familiar with working out on the reformer - but don't exactly know the different things you can do with the rebounder. So, back to school for me! I have to keep at it - and I can't wait till I can start putting in a real workout on that one!
This week is also rather busy because - while I do homeschool - I homeschool through a virtual school. I know a lot of homeschoolers think that isn't homeschooling - but what they think does not reflect how much work and effort I put forward in my kid's education. So, I am quite content that I am doing my best. I know my weaknesses - and if I were to set up my own homeschool curriculum - I would get behind - I would not get things done. I am a dreamer - a planner - and I would spend more of my time trying to make the perfect curriculum than teach it. So, I chose to overcome those obstacles by choosing an online curriculum - we are held accountable - and I add as much of "me" into this as I can. With the kids having learning disabilities - I have to put a lot more of "me" out there - and I'm just glad to have the opportunity.
This week is state testing. So, we are planning for that - preparing - and we also have to drive 1 hour or more (not accounting for traffic) to get there. So, it will be a busy week - and I will be unusually quiet - if that's possible (he he). We also have testing for dyslexia this weekend and next week - so, as I said - busy.
I have been dragging a bit to get back into the routine - but I am going to do it tonight. I promise myself that. I know that a good part of the reason I am feeling not myself - aside from all the stresses - is because I miss taking care of myself and I miss the exercise. So, back at it!
Just wanted to say hello to everyone and explain that I have not - and do not intend to disappear. I may be in the shadows this week - but I will continue to keep striving!
Here is hoping all my SparkFriends a wonderful and successful week. I am thinking of you and hoping for the best!
Take care,
Sumay