Too fat to exercise?
Tuesday, March 05, 2013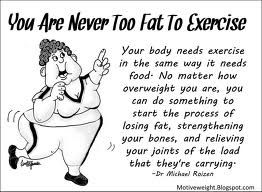 I'm just too fat to exercise! I have been deluding myself for over a year with this phrase! More likely, my whole life I've been using this as an excuse. I have many times promised myself that once I get under 200 lbs that I'm going to start! Is it that I'm just too darn lazy to get up and move? I should be thankful that I am not physically limited in any way, but I seem to overlook this on a daily basis.
Is it fear? Fear of sweating or making my muscles ache? Fear of not being lazy?
As far as nutrition goes, I can do that. I have a ton of willpower and motivation in that category.
Here on spark people I have witnessed many people, larger than I am, getting up and committing to exercise. My excuse is no longer holding up.
Anyone have any tips and motivators to get me going in the right direction? What first kind of exercises did you start with?