Tuesday, March 05, 2013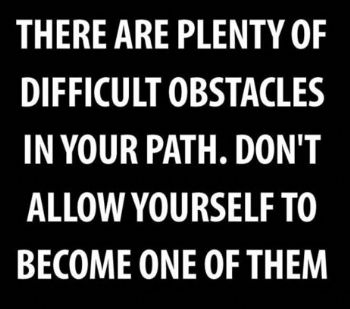 The work I've been doing to align my head (thoughts) and my body is all part of not being my own biggest obstacle and getting in the way of progress and success. I don't want to take it out on my body so I am continually refining coping skills and mechanisms and being kind to myself. If I'm having a bad day, I acknowledge it instead of wallowing in it because it will pass. Just keep powering through and be positive.
Sure there's a small part of me that would love to wallow in it and be miserable and be a DQ (drama queen) but exactly where would that get me besides in more a mood? Then I've willingly taken the first steps into a slippery downward spiral of self-sabotage. No thank you!