So, I have a lot of little visual motivators around my house... I have a mileage tracker from my home to my old office in NY, which I'm walking (and maybe eventually running). I have jars representing the weight lost. I have a dress I want to wear hanging in my closet with the rest of my clothes. Even so, I've never actually created a vision board collage, and this week in the Springing to Action challenge, we were asked to do so. Fortunately, I've been wanting to do this anyway, and this challenge was exactly the extra little impetus I needed to do so! Right now, it's set as the desktop image on my computer, but I also want to get it printed poster sized from Staples sometime soon.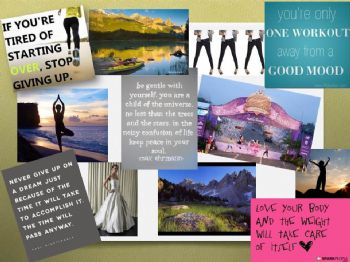 The quotes are self-explanatory, and more or less express what I'm really trying to focus on this challenge: being kind to myself, treating myself well (which means eating healthy foods and exercising) because I love myself, and focusing on the present instead of always waiting or giving up.
The pictures, though, require a little more description! Starting with the outdoor shot at 12:00 and moving clockwise:
1. Kayaking and active vacations. I love the outdoors, and there are world class places to kayak around here. It's something I've wanted to learn to do for a LONG time, but due to weight, size, and lack of fitness, have not learned so far. I also want to generally be able to take active vacations - biking, running, hiking, whatever! I'm on this journey because I don't want my weight holding me back from ANYTHING.
2. Skinny jeans! I want to shop in any old store, and I want to like the way I look in clothes!
3. Disney Princess half marathon. I've wanted to run a half marathon for about 10 years now, dating back to when I was actually quite close to being able to do so. Also, I love Disney. And Princesses. And this one's kinda self-explanatory!
4. Joy. I just googled the word and loved this pic. Also, I'm doing this because I'm trying to focus on prioritizing the things that make me happy.
5. The Appalachian Trail. I live so close, and love the idea of spending a few days on the trail. I don't think I'll ever thru hike it, but who knows. Either way, I don't want that decision made because the idea of hiking 15+ miles a day is too daunting.
6. A wedding dress. I have held off on setting a date or planning my wedding because I want to love my dress and my pictures and don't want memories of that day tainted by insecurities about how I look. I'm working on this 2 ways: loving myself more so that I truly feel beautiful regardless, and losing weight so that I'm closer to my ideal size.
7. Yoga retreats. I want to go on a yoga retreat SO badly, and I want to be able to bend and hold all the poses so that I can keep up.
These are clearly not all of the reasons that I want to stay motivated and keep working towards this journey, but they're certainly a very representative sample. I'm working hard to be able to use my body and push past my limits, and I'm working to love my body and what it can do through that process!