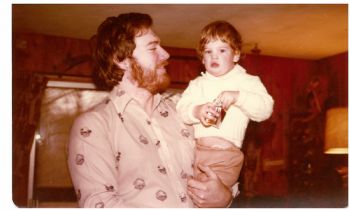 My dad and my brother Brian when he was a toddler. We could not get them plots right next to each other, but my dad was buried in the same row as Brian.
As most of you know, my dad passed away suddenly on February 11th. The past few weeks have been an exhausting emotional roller coaster. I have felt virtually every emotion there is, sometimes simultaneously.
I had finished watching the series "Six Feet Under" a couple of months ago. For those who haven't seen it, the show is about a family that runs a funeral home. The father dies in the first episode and the show revolves around how the family deals with his death (as well as other issues). I found "Six Feet Under" to be life-changing. It changed the way I view end-of-life and made me accepting of death. It isn't that I was in any denial about the fact that everyone dies. After all, one of my early childhood memories is of my brother Brian's death. But the show made me feel matter-of-factly about death. I know that my grandparents and at some point both of my parents will pass away. However, my dad dying was not on my radar. His diabetes had been fairly well-managed and he never had any cardiac events related to his high blood pressure. I was more prepared to hear that something had happened to my mother when I got a call from a hospital, as she has been hospitalized for heart-related events. So, needless to say, my reaction was utter shock. Luckily my best friend rushed right over and took me to the hospital, where I got to see my dad's body and say good-bye to him.
I almost immediately thought of "Six Feet Under" because the show addresses the different reactions to death and grief and that there is no one "right" way to react. One of the main characters says in the first episode, after his father's funeral, "Four days ago I was a relatively happy guy. Now it's like I don't even know who that guy is any more." I can relate to that sentiment. Just 3 weeks ago, I was a joyous woman who came home from a great workout at the gym, took a shower, and then as soon as I stepped out I received a phone call that changed my life. I was clueless that I was about to become a new person. Ever since, I will get waves of emotions that are so extreme, they are almost irrational. It is easy so launch into disaster mode at the drop of a hat. I have felt at times that I have no love or compassion to give to anyone, even though that's not true. During those periods I have also been convinced that I will never feel better again, even though I know that's not true. Although I may not be able to control my emotions (nor do I necessarily want to), I can reflect on them and try to keep things in perspective.
I accept that I will never be the same person. This is not necessarily a bad thing, it just...is. I do not mean that I believe I will be a depressed person from now on or anything like that. Grieving is not the same as depression, despite how depressed one may feel while mourning. Grief starts immediately after hearing that someone has died and as much as the emotions can be extremely strong and horrible, I recognize that the feelings are normal. I let the emotions come forth and I process them as they come. If I feel good or happy, I make a point to not feel guilty about it. While I have experienced extreme sadness, anger, and even confusion over the past few weeks, I have also witnessed extreme love and kindness. My best friends, without hesitation, were there for me (and continue to be). I don't know that I have ever felt more cared for in my adult life than I have over the past few weeks.
Nothing tests how much you have changed as a person than dealing with some of the strongest emotions you will ever experience. I was concerned that I would want to eat my way through these strong emotions. Admittedly, I have had a couple of binges over the past 3 weeks, but my inclination has been to continue to eat in a healthful manner. Even in the midst of binging I realized the eating was not helpful, and the overeating was still not near what I would have done in the past. Part of the overeating was out of convenience. I did not feel like cooking for a while, so it was easier to order food or have frozen pizza on hand. I made a point to still eat plenty of fruits and vegetables, but I just did not feel like doing my batch cooking like I usually do. I finally made a big pot of soup and some dishes, and have basically been back on track. I am proud that I haven't had many strong urges to engage in emotional eating. I am not, however, focusing much on weight loss right now. My goal is to eat healthfully and track my food, but I am not worried about the scale.
Jiu Jitsu got a bit sidelined over the past few weeks. I did go to class the subsequent 2 days after my dad died, but then I think the shock set in and I did not feel like going to the gym. I felt like I was being ignored when I did go to the gym, which made me pissed at the guys at the gym because I thought they were alienating me. One day I just up and left before class even started. I decided to join another gym, which I did last week. I went back to the gym where I used to train (and where my brother John still trains); their Jiu Jitsu instructor is a black belt and I missed my old instructor's kick-ass kickboxing classes. Then I went back to my other gym for a class with a black belt guest instructor. I felt at home again. I felt almost embarrassed at how angry I had gotten at those guys for no reason and realized that there is a reason you shouldn't make big decisions when you're grieving; your judgement is just way too clouded. So, for now, I will do classes at both gyms. I am going to afford myself that luxury for a few months and then decide what I would like to do. Like I am giving myself a break from eating specifically for weight loss, I am going to give myself a break from training for competition. I am not going to sign up for any of the upcoming competitions; I will decide how I feel as the day approached, but I am not putting any pressure on myself to compete. I just need my training to be fun and stress-relieving for now.
Work has been very challenging, and not in a good way. Doing poison control already tries one's patience and is very taxing. I have had almost zero patience over the past couple of weeks. I struggled to provide even the most basic kindness to my callers. Then I took a call from a guy whose dog and 2 cats ingested a supplement. I started talking to the guy, and several minutes into the call, he told me that he found one of his cats was dead when he got home. His dog was already sick. He started choking up telling me about his cat. I wanted to reach through the phone and fix everything for this man. I remembered that I'm not the only one who has problems. My compassion returned quite a bit after that phone call. I can deal with my emotions while also helping others. Actually, extending compassion is helpful to me; it helps me remember that I do have something to offer.
Part of how I am coping with all of this is rewatching "Six Feet Under" (I bought it this time). It is really help me process my emotions and recognize that my dad being gone is a reality. If you have never seen "Six Feet Under", I would strongly recommend it. Be forewarned that the show can be crass and raunchy, but the show is beautiful (albeit the story lines are outlandish). I honestly don't think I would be handling my dad's death as well as I am had I not watched it.
I don't mean for this to be a "poor little me" post. As always, I will be honest about my feelings. I am grieving right now, I will have my ups and downs, but I will get through. After all, my dad would want me to continue to pursue my goals and he wanted me to be happy. Knowing that helps me work through the ugly feelings that bubble up with grief. I may be heart-broken, but I think my heart is also building up from the love I had from my father and from family and friends since his death. I hope to eventually emerge as an even better person than I was before.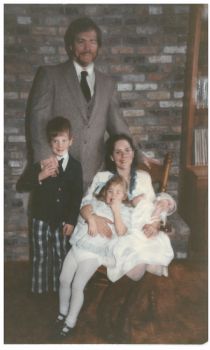 Old family picture (my dad, brother Brian, my mom, me, and brother John as a baby).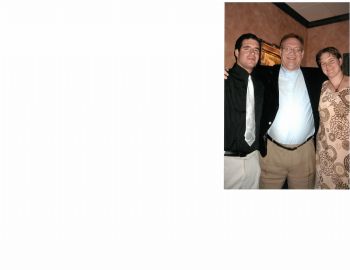 Picture of my brother John, my dad, and me at his rehearsal dinner a few years ago.