I'm part of a 17 week spring/summer challenge that started a few weeks ago. My heart isn't quite in it yet but I'm biding my time until I can focus more. I haven't had a moment to complete any of the challenges so far (sorry guys) but when I read the challenge email for week 3 I knew I had to make the time. They asked us to make a vision board to picture where we want to be in the spring & summer and I started typing into Google Images words like "confidence, free flying, conscious eating, and power". Not so much the typical "get fit, get thin" images one might expect. I realized that I had hit home when I found the image of the lone high heel that bore the message "unsqueezed". And with this image, the vision board began.
I want to feel unsqueezed. Unsqueezed from drama, unsqueezed by stress, unsqueezed by pressures of deadlines and feelings of being not-enough and fear and money-concerns and this heaviness that there is in my being, my body, my heart.
I don't want to be left with the negative truths in this space that I am residing.
My friend's mother is dying.
I still feel as if I am going to be consistently recovering from the cancer that is gone from my body.
My father can no longer remember where I live.
And above all, I can't get past the feeling that something is missing, is wrong, is being stuffed down the deep dark hole for fear of finding the light.
And through all of this, I am okay. Because I can do the small things that get me through today. I can make choices to not let things get to me, not let them overpower me. It's incredibly hard to look up from the ground as the choice to fall, to fail, to quit, is easy. The choice to fly however is staggeringly difficult and more than worth it in the end. It's the big picture that is built one tiny snapshot at a time. A mosaic of good intentions, uplifting choices, a lightness of being that starts with the smallest step, and the desire to find, through it all, the confidence and power to be.
Unsqueezed.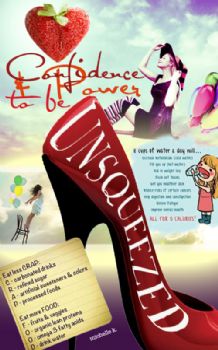 Week three "springing into action" vision board by me.