It's still a work in progress. I have a few other things I want to hang up, including pictures of myself that were taken this morning, and a list of reasons why I want to lose weight. Here we go...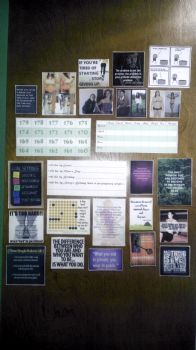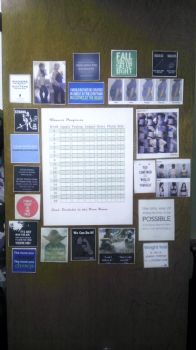 Keeping track of my weight loss:
And my measurements: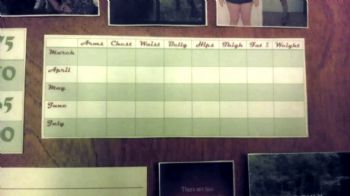 And my fitness progress: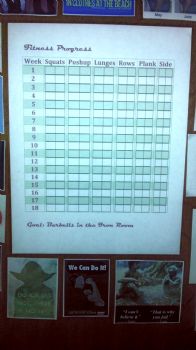 I created a couple things to post today:
Reasons I Want to Get Fit…
-This is my next challenge to cross off the list.
-Summer, shorts, and bathing suits.
-Looking good in clothes.
-Sick of being the fat girl.
-I only get one chance at life, and I don't want to spend it this way.
-Feeling better about myself when I'm naked.
-I have the self-control to do this.
-In case I see people that I used to know.
-I'll be better, faster, and stronger.
-I want to live as long as possible.
-Sick of feeling self-conscious.
My Get the Fvck over It Page:
I ate like crap yesterday…
Get the fvck over it!
I didn't work out like I was supposed to…
Get the fvck over it!
I am so busy, I can't find time…
Get the fvck over it!
I didn't lose any weight this week…
Get the fvck over it!
I'm so fat and gross…
Get the fvck over it!
I feel like I'll never reach my goal…
Get the fvck over it!
I am so disgusted with my body…
Get the fvck over it!
Other people have it so easy…
Get the fvck over it!!!
I will also be hanging up these pictures of me, which were taken this morning: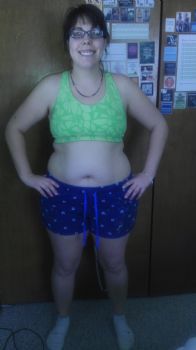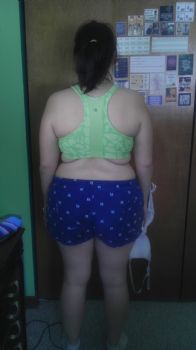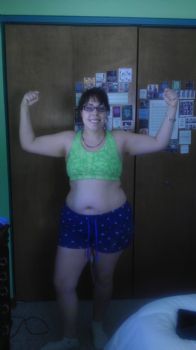 And... here are today's measurements. I still need to take my body fat, but I had already worked out and had breakfast before I measured myself, so I have to wait till tomorrow.
3/4/13
Arms = 14
Chest = 35
Waist = 34.25
Belly = 39.75
Hips = 47.5
Thigh = 35.5
Body Fat = ???
Weight = 178
This morning I woke up so excited to get started. I got up an hour early (Avery peed the bed, and then I was too pumped to go back to sleep). I had a good breakfast (egg and fruit). I went to the YMCA with Airin after we dropped off Avery at preschool. I went on the elliptical 10 minutes to warm up, and then I did squats, lunges, push-ups, rows, plank and side-plank.