The 7th of Febuary when I went to the doctor I was having severe pain in my back, shoulders, neck, and arms. I didnít say anything because we had other things to deal with and I just assumed Iíd slept wrong. The pain took a couple of days to go away. But the last couple of days the pain has come back with a vengance, and itís been hard to tolerate the pain.
I have really believed it to be muscle tension from the stress thatís going on in my life, but Iím not so sure. Last night my heart went into a severe arrythmia from the stress of whatís going on, and I could hardly breathe when the rhythm was so bad. Then I went into tachycardia. Every time I got up to use the bathroom my heart would again go into tachycardia and it really felt scary. The tachycardia makes me feel like my heart is just quivering and is about to stop. Maybe it will. Maybe it will stop from the heartbreak Iíve been through.
Last night I went to bed in tears. My heart is still hurting from the stuff thatís been said to me. What was said just makes it harder to trust and feel safe in the world. That kind of behavior plays a part in why I am so reclusive, because after all the years of abuse I donít have the capacity left to deal with more meanness in the world. I am a sensitive person. And, in general the world is harsh. And there are always those persons who zero in on wounded people and get some kind of pleasure by wounding them some more. But I also see other people who are kind, sensitive, and caring. Those are the ones I want to see more of in my life. Itís a good motto; if you canít say something nice to someone then donít say anything at all.
Did you know that if you were sexually abused as a child you are likely to be sexually abused again from someone else while you are a child. Do you know why? Because predators readily see wounded children, and they use that childĎs wounds to take advantage.
Did you know that if you were abused as a child your chances of marrying an abuser is astronomical? Do you know why? Because you duplicate the past as a way of unconsciously trying to Ďchangeí it, get mastery over it. Then the cycle of abuse gets passed to yet another generation. And, importantly; being so wounded draws predators to you like sharks draw to blood in the water. Because predators readily see wounded people even if you do all in your power to hide your wounds.
Did you know that if you were ever raped your chances of being raped go up 17 times compared to a woman who was never raped? Same reasons as above; predators see your wounds and they hone in on you.
My abuse started in the womb when my mother was being severely battered. After birth both my mother, father, several brothers, a couple of uncles, and a grandfather at various times sexually abused me from the time I was 2 till I ran away at 15. From the time I was a small child till I was adult I spent much of my time so stressed out from being sexually violated that my knees would hardly hold me up. I literally shook like a leaf in the wind. Often the stress and terror were such that when I was hiding to try to escape them, and they would come close to where I was, I would try not to breathe. I needed desperately to get a breath, but was so afraid that my breathing would give me away, especially since it was more a gaspy breath due to my level of of sheer terror. It tears my heart out to even bring to mind how much sheer terror and emotional pain I experienced. I often didnít think I could survive another day, yet there is this great strength inside me that has kept me hanging on. As fragile as I am from the abuses I have suffered, I still have that great strength inside me. No matter what anyone thinks of me I am stronger than you ever imagine. Eight of my siblings are dead from the abuse, but I still live. Many who experienced my kind of life donít survive. So, no matter who wants to negate me, there are many who absolutely wouldnít be alive today if they went through what I did.
My father first sexually abused me when I was 2. My father tried to sell me to old men for sex when I was 9. My mother set me up with a pimp when I was 15. Then my father forced me to be with that pimp many times so he and my brothers could watch. When that level of abuse was going on I really thought I would shatter into a thousand pieces. I didnít think I could go on, and in fact I went into the hills to jump off a 200 foot cliff. But, my 2 brothers closest to me knew I was probably going to do it because I had reached the point where I stopped crying, and they Ďknewí what I was going to do. They had been there when I had tried to put a knife through my heart when I was 7, when I was being raped on a daily basis.
When I got pregnant Dad tried to kill me for getting pregnant. After I ran away I had no real way to live so I ended up in one extreme abuse situation after another. Part of that was because I was just a child living in an adult world - but especially dangerous to a child living on the streets. And, I ended up in worse situations than most because I have what was previously called Multiple Personality Disorder / now called Dissociative Identity Disorder as well as PTSD. Living on the streets, going from place to place, I was often raped, even gang raped. Because one of my personalities would trust someone and end up in a dangerous situation. And, then when they would realize what was going down they would leave, I would Ďcome toí and suffer the consequences of whatever the situation was. Actually any 15 or 16 year old girl - with or without MPD - is at great risk from predators when living on the streets. I donít see the abuser or the psychopath in them, but they certainly see the wounded person in me. Even as an adult in what I thought was a safe world, I have been raped on more than one occasion; once when I was living with a ĎniceĎ family and their son raped me 2 weeks after my 18th birthday, and again when I was drinking my blues away when I was 25.
Growing up in the world I grew up in I didnít learn a lot of things I needed to learn; I was kept isolated from the world as a child, and didnít learn how to function in the world. The only world I saw was my family. I believed wrongly that it was just my sick family that was that way, and so I went blindly and idealistically into the world; I didnít see risky situations or know how to keep myself safe. And, with MPD I often had no control of who was Ďoutí and would Ďfind myselfí in really dangerous situations. MPD saved me from intolerable abuses, but MPD also put me into a lot of unsafe situations where I got harmed again.
So, for however harrowing my life is with Chuck I donít feel safe jumping the gun and getting out there again when I have evidence before me even today that the world is full of nasty unsafe people. I donít trust myself to pick out who is safe and who is unsafe when I canít even be Ďsafeí among persons who I feel would be more understanding, and who I should feel safe from victimizing me. So, why would I go Ďout thereí and risk even further harm when I know full well from experience just what kind of people there are in the world? I feel safer dealing with what I have in front of me than going out there and ending up face to face with who knows who. With my luck in people I could end up with someone that makes Chuck look tameÖ Oh, Iíve already met them; thatís why Iím staying here. At least here I have some feeling of control over my life, even if itís tenuous. The treatment so-called Ďnormalí people give to someone that has any kind of mental illness confirms to me how unsafe even so-called Ďsafeí persons can be.
I realize that persons who have lived a so-called Ďnormalí life, or some range close to it, just donít understand what some people have lived through. Watch tv. Those reports are there not solely because it is (supposedly) uncommon, but because there are truly horrific people out there. And, their numbers are becoming more common. I really donít believe these things are so uncommon: one out of 6 boys are sexually assaulted and one out of 4 girls are sexually abused; 50% of women have been abused at some point in their lives; and on an on; the stats are terrible. People can Ďblame the victimsí but that only helps you feel safe and secure. And, it harms the victims more. In some ways it harms the victims of abuse nearly as much as the original abuses. It certainly makes it clear that we are not safe even from so-called Ďsafeí people.
Regrettably I have lived through experiences with monsters. I would wish that those in society would be more tolerant, and if they couldnít be tolerant, than at least show they are human and be kind to another human. Because even those with mental illness are human. Most people with mental illness are sensitive people. Their sensitivity often plays a part in their mental illness. But there are some with mental illness who act out in dangerous and hurtful ways. And there are some so called Ďnormalí people who act out in dangerous and hurtful ways. Itís a shame to not be able to trust anybody. My skin has been really burned, but I know there are trustworthy and kind people. Many of them are here.
Many mentally ill people are isolated and their computer screens are their way of interacting with the world. Itís an important outlet to those that are home-bound for whatever reason, be it physical or mental. Shame on anyone who abuses someone for mental illness or for that matter being different in any way. I think itís important here on Sparks for people to be accepting of each other, and not make life harder than it needs to be.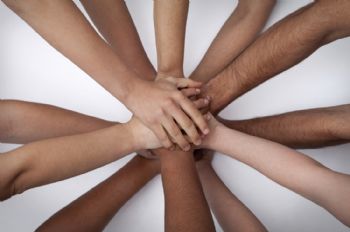 :~*~:. .:~*~:. .:~*~:. .:~*~:. .:~*~:. .:~*~:.:~*~:. .:~*~:. .:~*~:.:~*~:. .:~*~:.:~*~:
Hereís the message Iíve gotton all my life, and continue to get: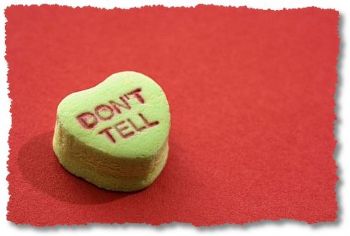 Don't Tell.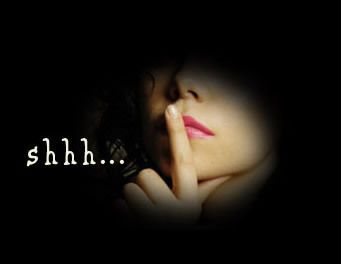 Shhh...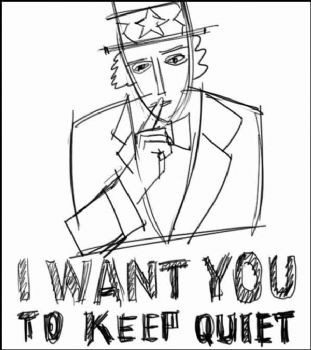 I Want You to Keep Quiet.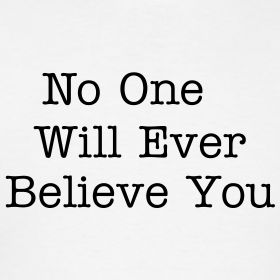 No One Will Ever Believe You.
Not only won't they believe you; they'll think you're crazy.
This is because it is much easier to believe that than believe this stuff really happens.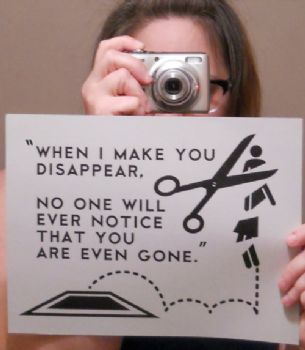 When I Make You Disappear No One Will Even Notice That You're Gone.
Out of sight out of mind works because it is much easier than believing this stuff really happens.
I think it is important for people to speak out in order to heal and go forward. Things that are kept in the dark grow like mold. Bringing it out in the light is uncomfortable but kills off the mold and allows life to grow in the sun.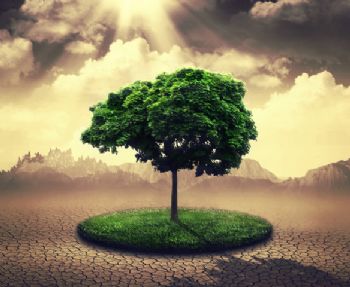 Or allows growth out of barren land.
It's good for others to know about these things also, to grow in knowledge and compassion, and perhaps to be able to help keep it from happening to someone else. We need to be 'the village' if we want to stop these things from happening to our children, who then grow up having such difficult adult lives.
:~*~:. .:~*~:. .:~*~:. .:~*~:. .:~*~:. .:~*~:.:~*~:. .:~*~:. .:~*~:.:~*~:. .:~*~:.:~*~:
Comments To My Blogs or Page: To remain on my friends list your comments to my blogs must be of a respectful nature. Thank you.