My message for today is everyday counts.
I was looking at my weight loss numbers per month. Some months I lost more than 2 lbs a week. Some months I only lost 1 lb for the entire month... but since last January I kept MOVING FORWARD. Yes, there were holidays, birthdays, parties, and celebrations. Yes, school started. Yes, grad classes started. Yes, I participated in Restaurant week. Yes, I went on vacation and out of the country. Yes, I went out and enjoyed times with friends. No, I did not quit. No, I was not perfect. Life will continue to move forward, but small things add up. As long as you don't give up you are always moving towards your ultimate goal.
Here are some recent outfit pics and muscle comparisons.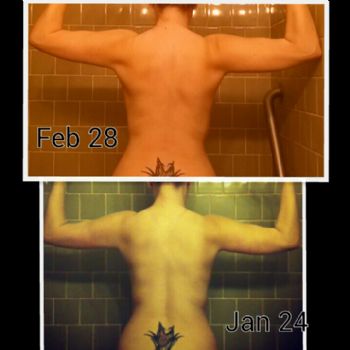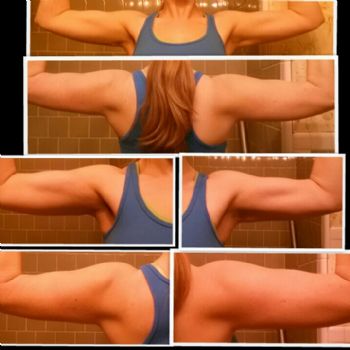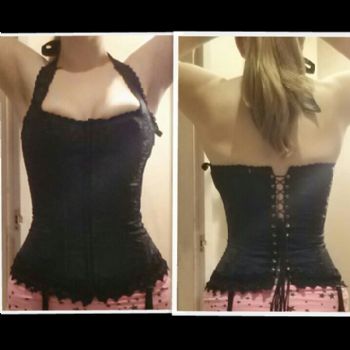 Overall, my life has been wonderful. I got hired to bartend at a strip club. I am very excited. I was nervous to apply. When you apply for clubs they ask for your information and a picture because they want to hire "attractive bartenders." Who defines what that entails? I decided to say f*ck it and send them my picture. What did I have to lose? The worst that would happen would be that they would say I wasn't attractive enough lol. The guy was very interested in meeting me and the interview went well. It seems like they are very open to suggestions on how to improve the club. It is currently not being managed very well so people have gotten kind of lazy. The facilities are nice so there is definitely room for improvement and has a lot of potential. The corset picture above is what I am going to wear. I get to choose my outfit and we have friends that worked at another club that wore corsets. I think it is flattering, but not too naked lol. I am hoping to make some nice supplemental money to help me pay off some of my student loans. Our friend who bartended at a nearby club made enough money to buy a house and pay for nursing school. Maybe this is the source of income I have been looking for. If it doesn't work out then no harm done. I am also proud that I was confident enough to even submit my info to be considered for the position. This is huge for me!
Grad classes have been going VERY well. I am doing well in the statistics class and the education class has inspired me to take risks with my teaching. I have come up with more interactive activities so students are discovering the math versus me trying to show them what to do. So far so good. It can be scary admitting that you can improve and trying something that is unfamiliar to you, but again, what do I have to lose:)
The rest of my life has been going well. I have been enjoying hanging out with my best friend (pictures of us are in older blog posts). My bf has also been great. He decided this weekend that he wants to get serious about food again. I packed him a cooler bag of food for the day this morning, in addition to my own food for the day. I am excited to hear how it went for him. I planned everything and tracked it all for both of us last night, so it made preparation easier this morning. Wish us luck:) We went to the gym last night and it was fantastic!
I hope everyone has been doing well. I signed up for 4 races this year. A half marathon in May, a 10k in May (a friend asked me to do this one with her), a 5k in June (I did it last year and am completing it with some friends from work who are new to walking/running), and a half marathon in October (this is on my birthday and is the same half marathon I completed last year). I am pumped for the two half marathons. It is called the Maryland Double. If you do both of the half marathons then you get another metal that is really cool. It has a crab and the flag on it. I haven't really run since Nov, but I did 4 miles this weekend. I can't wait for warm weather so I can run outside. I run much better outside than on treadmills. As always, I will keep you updated.