Says my boyfriend. Clearly, I'm flattered, because that's kind of what I'm aiming for. However, he also went on to say it may be my workout outfit: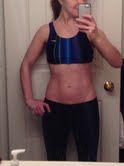 and the way he said one of "those" super fit people. Oh boys. I'm probably over-analyzing. What does that even mean anyway? People make judgments whether you are fat/thin/fit/somewhere in the middle, wherever. I know he didn't mean anything by it, but it did get me thinking. Is that what I want people to perceive me as? One of "those" super fit people or someone who is just overall healthy, because in my mind, there's a difference. I think, of course I want to be perceived as that! But if not, I will take looking and being healthy.
Another thing I've been trying to work through if you all recall is my attitude towards my body, and specifically my arms. Yeah, yeah, everyone tells me I have awesome abs and I appreciate it, but that's just how I'm built, I'm one in a million who doesn't carry weight there and abs have always come somewhat naturally for me. My arms on the other hand, do not, and they are whats out on display the majority of the time, and in my mind, makes me look bigger than I know I actually am because they seem disproportionate to me. Anyways, here's my previous blog about this issue in case you want to read more, but I don't want to dwell on it too much: http://www.sparkpeople.com/myp
age_public_journal_individ
ual.asp?blog_id=5165617
When I worked out yesterday (Jillian's No More Trouble Zones) it was basically all arms and abs, and my arms felt so buff and strong afterword I had to relish it in a moment that maybe, just maybe, my arms were getting there: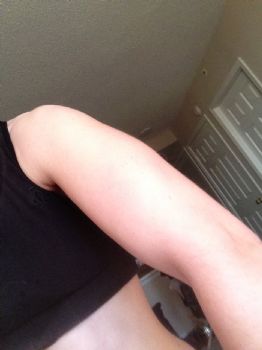 I was not good over the weekend. I think my crankiness from last week got the best of me :( We had pizza Friday which just means more pizza for leftovers. ugggh. we LOVE pizza. we've been "good" about only getting it once a month but now writing that out I'm embarrassed because that still seems like way too much. I just have little motivation to cook, especially on weekends, and I'm stuck in a protein + veggie for dinner rut that's getting old. However, I did make this recently which came out delish and I'd make again:
turkey breast with craisin compote and sauteed swiss chard. I baked the turkey just like you would chicken breasts, with just a little salt&pepper and herb for seasoning, then I reduced the craisins with a little maple syrup and orange juice and sauteed the swiss chard with olive oil & garlic, salt&pepper. pretty simple actually and delish!
Finally, I spent a lot of time this weekend making jewelry. Should I have been more productive? yeah probably, but it's something I get a lot of enjoyment out of and if I want to spend all day on a Saturday doing it I'm not going to regret it. Here are a few of my pieces: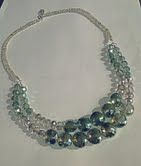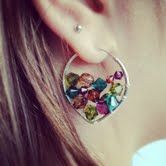 Have a great day and week everyone!