Today it was 36 degrees when my half marathon race started! After living in Florida's warm climate for 26 years, 36 degrees feels a lot colder than I remember it.
The race was to start at 7:00 AM. When I walked out to check the start line at around 6:30 there were few runners out and waiting. I think they were staying warm for as long as possible, pre race. I know I was.
So, the race got off on time, I took off my gloves and handed them to DW, but kept the hooded sweatshirt on. Around mile 3 I shed the sweatshirt, and tossed it to the side of the road. I was already warmed up, but not really 'feeling' this race. I just wasn't into it, or full of energy. I assume I'm in need of rest; as those who read my blogs all seem to agree, I am probably overdoing the long races.
I was okay, though. I did a run/walk for 3/1 but my walk was fast. My heartrate seemed to be higher than what I've seen on my fast training runs. But, I was going to give it a good try. I reached the 5K mark at 31 minutes not a bad HM pace for me. At the 10K I was at 62 minutes, pretty good considering I didn't feel like I had a great deal of energy today. I decided that since I was doing better than I felt, I would push a little harder. Sometime picking up the pace will help me to muster up some additional energy, but not today. But I kept running hard. I thought I might even get close to my PR, which coincidentally, was achieved on this same course last year. This course does have some hills, but that last half is flatter, which I liked.
I just kept on pushing and trying to do the "finish time" math wasn't exactly working too well for me. But, what numbers I did muddle through indicated I was going to have a good time, after all.
I was actually walking less and running more the last few miles. Coming down the finish corridor, I saw DW on the sidelines and she was cheering me on. I was able to sprint across the finish line pretty quickly, and the announcer even commentied "now that's the way to finish a race", as I ran across the finish line.
I ended up with a good time of 2:09:53 and won 2nd place in my AG. The same result I had last year. And the same guy beat me this time, by pretty close to the same margin he beat me last year. So, at least we are consistent.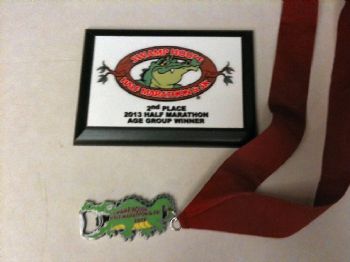 It was only 40 degrees at the end of the race. I went back to the RV and put on jeans and a long sleeved shirt before getting my award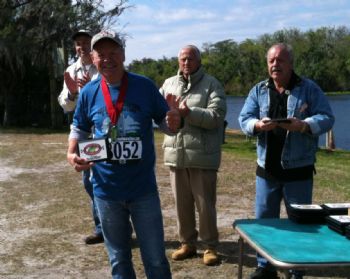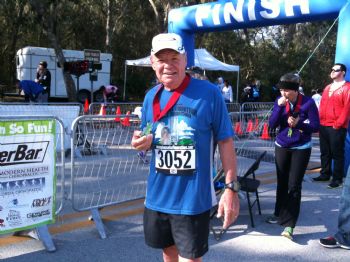 Thanks for reading and have a great day.