Sunday, March 03, 2013
This is for my

A Team gals, who have been asking for pics...

So, as you may remember from my ranting, I stepped on the scale a few days ago and was feeling pretty low.
Retail therapy helps, we all know this, right? As luck would have it, I caught the tail-end of the winter sales and instead of one pair of shoes, I came home with these: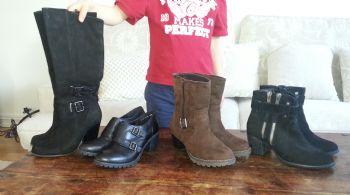 4 pairs of good quality shoes for only $300! The brown shoes are warm winter shoes and will have to wait until next winter to get some use (although we still have snow and cold temps so I guess I could wear them now), but the others will get loved on asap!

Also notice that they all have sturdy, sensible heels so as not to aggravate the state of my back. I have been wearing flats for the past 11 months, and I can't wait to have higher heels again!
Turns out I had a decent weigh-in on Saturday, so now they are also my reward !

I am SO pleased with my shopping trip.
Edited to say: Rewarding/consoling myself with something other than food/sweets/good wine doesn't come easily for me, so this is my new habit I am working on!