Sunday, March 03, 2013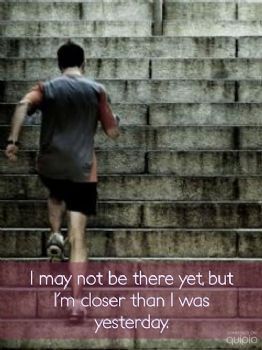 I am so thankful that I had yesterday off after all the major overtime. There was a couple of days last week I'd work 12 hours, then come home shower, eat a snack and go to bed. I was frazzled to say the least. My daughter had a sugar test on Wednesday, and her dad took the afternoon off from work to take her. He had a talk with her about helping me here at home, so she has put about 20% more effort in. She does the dishes, but leaves them in the drainer, she folds the clothes and leaves them on the dryer. She sweeps the floor and leaves the broom propped in the corner. That's why I say it's about 20% effort, but I'll take any help I can get at this point.
Yesterday after sleeping over 11 hours (my body wouldn't let me up, it kept shutting back down), my husband and I went to the gym and I ran 1.5 miles and walked another 1.5 miles so I done a total of 3 miles on the treadmill, then another 2 miles on the elliptical. I was proud of my workout since I was so weak from the stress last week put on my body. I woke up and dropped another 1.5 pounds making my total loss at 38 pounds. I'm over halfway to my ultimate goal leaving 20 pounds to go!!! I have to say I am loving this new healthier lifestyle, even when working I love the fresh fruit and veggies, light lunches and water (sometimes I allow myself a coconut water for a treat after a workout)
I am so proud of my husband as well, he has dropped 3 pant sizes, 2 shirt sizes, and was running beside me on the treadmill. He has type 2 diabetes, so it's been a struggle for him to lose weight for years! We made the commitment at the beginning of the year that we'd make this house a healthier home, and we have stayed true to our commitment. Every day I see positive changes in both of us and our son. Our son started a new job about 2 weeks ago, and he's making healthier food choices, which makes me so extremely proud of him as well!!!
Last night I cuddled up with my husband on the couch after he cooked me a steak & sweet potato, and made me a garden salad. I fell asleep very early but with the new work week coming I need as much sleep as I can get :)
Well I'd best get moving for church, I have a lot of music playing and worshiping to do today!!!
~Hugs~
Angie