'The Spark Solution'
Sunday, March 03, 2013
Many of you know that I started my weight loss journey at 300 pounds, that I've been to my goal weight and that I struggle to stay there. I was excited yesterday to read that SparkGuy, Chris Downie, and group have put together a new book ... 'The Spark Solution'. If you want to read more details, check it out: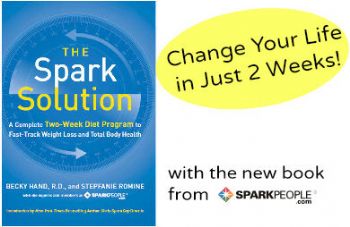 www.dailyspark.com/blog.
asp?post=big_news_from_spa
rkguy_the_spark_solution_a
vailable_for_preorder
Why would I care? I read the original book SparkGuy put out. It refocused my thinking on streaks. I once thought that I could not fail on a streak. If I did, I was a failure and I headed for the kitchen. After reading the original Spark, I got the message. A streak is simply to motivate me. If I end my streak for some reason, I'm motivated to start the streak again and take it further the next time. That's the purpose of a streak!
I got other nuggets from the book, but that was my BEST one! My thought is that if I get just one truth that helps me walk this journey stronger, straighter, more faithfully, this new book is for me! Check it out! Maybe it's for you too!! And if not, click the SparkPoints button at the bottom of the article I linked you to above and at least get your 3 SparkPoints for reading the article ... that's worth your time!
Wishing you the

on your journey!