Moderation, Not Deprivation
Sunday, March 03, 2013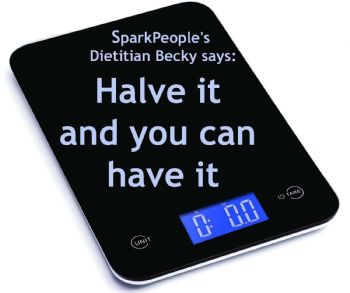 It was an interesting perspective for me to consider when I tried SparkPeople for the second time in September 2012. That I should start my journey the way I intended to go so that I wouldn't feel overwhelmed, deprived, and eventually burn out from the restrictions I placed on myself. So I tentatively placed a toe in the "Moderation, not deprivation" pool and began to ease my way in.
Early days when I re-learning portion control, I allowed it a couple times a week, scared that I would over-consume when putting it into practice. As time went by and I was having more success and feeling more in control, I allowed it more.
It's just since January that I've realized I've been doing it a lot - making good choices and showing myself that I do have the ability to "Halve it so I can have it."
14 grams of almonds (instead of 28g)
15 grams of gluten-free pretzel sticks (instead of 30g)
or 1 Tablespoon (15 mL) of nut butter (instead of 2 Tablespoons)
are all half portions or "halfsies" that I enjoy.
It's a wonderful feeling to know that I can enjoy half a portion as much as a whole portion, and bonus that half a portion contains half the calories, so I'm not exceeding my nutritional requirement for the day.