Heyyyyy it's the weekend, time to do a progress blog! A blogress post? The obligatory blog. The oblogatory.
This week was pretty good. Not 100%, because I had some stomach weirdness late in the week: perhaps I disagreed with something I ate - yes, me - or maybe it was a touch of a stomach bug... it lingered too long to be food poisoning unless it was something I ate a few times, I was starting to worry I'd developed an intolerance or something, I've heard it's possible to develop one after a virus even if you've eaten your new-trouble-food happily all your life before then... but the tummy unhappiness seems to be gone, so I don't really care what it was, so long as it doesn't come back! (Same goes for that run-on sentence!) Unfortunately, it derailed my exercise plans for two days, which is why I can't say this week was 100%.
I drank a bit more water this week, although apparently I suck at drinking water on the weekends - today was terrible, at least pre-run. But I'm making progress. I also tracked my food all week, all of it. I am getting better at using the scanner on the iPhone app, which is convenient for things like Larabars and other random packaged foods. (It would probably be a handier tool if I ate more packaged things, so I should be pleased I'm unfamiliar with it, I guess!) I'm making strides. I will keep up the tracking and the water, even on the weekends.
I'm also continuing my efforts in eating more fruits & veggies. We've got lots of salad goodies (including the Sweet Kale Salad kit from Costco, which is deeelish and has seven superfoods in it - even sliced Brussels sprouts it! Yum!!! Plus a sugary dressing, I know, but hey, everything in moderation right?) We've got pears and apples and bananas, oranges and grapefruits and strawberries (wintery for sure, but still strawberries) and one kiwi left from last weekend. Max found this GIANT pineapple on one shopping trip this week, but it's a bit green, so we'll probably get into it later this week. I bought Brussels sprouts and fennel yesterday for roasting, and we've still got broccoli and half a butternut squash and beets. We're stocked.
Look how healthy today's breakfast was! That's homemade blueberry syrup (frozen unsweetened wild blueberries, a splash of juice, and some orange zest, boiled like crazy) and cottage cheese on homemade waffles. Yum!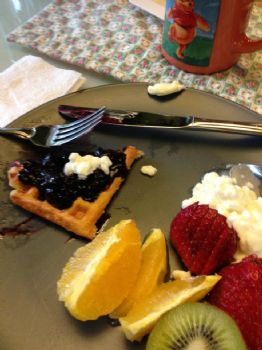 Looking forward, I plan to ride this week's momentum and keep building. Exercise was good last week: despite the two missed sessions, I still did both runner-specific strength training (which I'm sure is helping!) and upper body strength. I think tomorrow I'm slotted to do a P90X video, which will be a surprise for my body, I'm sure. I still need to dig out my physio "homework"/"prescription" exercises, because I can't quite remember the order to the moves I am supposed to do for my shoulder, but I am doing some of them and the hip scouring that I'm supposed to keep up. (Who really keeps up their physio exercises for the rest of their lives consistently? Really?)
I will also continue tracking my food. I don't want to jinx myself here, but I feel like I'm back in a bit of a tracking groove, which is good. Perhaps something just had to click again. Hopefully it stays clicked! However, I also need to focus on getting my calorie count down a little. I'm happily eating at maintenance level - most days this week I was over 2000 calories. That's alright - it's good that I do actually balance my calories and maintain weight naturally - and that kind of intake will fuel my workouts. I may eventually get my fit shape back at this rate, but cutting down just a few hundred calories would do me good and speed things up a bit, certainly. However I don't want to always focus on weight-weight-weight or what size pants I wear. I have been doing some big-picture-thinking since I found out one of my very closest girlfriends is pregnant, and I really just want to be HEALTHY. Healthy and fit. I'm not at risk of "letting myself go" now that I'm married... sure, I slid back up to my easy balancing point, which is borderline overweight (okay, slightly on the FAR side of that border, if you ask my BMI, LOL!) but I'm at no risk of becoming sedentary and ballooning up to a million pounds. That's just not who I am. Would it be so wrong to focus on getting fit and strong and eating healthy nutritious foods, and still be 160 pounds? Nah. (Plus, at 160 lbs, I'd be back into my non-fat pants!) So I'm going to hang onto this mindset for a little while and see where it gets me. Everything in moderation. Health. Nutrition. Wholesome. Strong. Balanced.
Plus I totally bought 80 calorie mini ice cream sandwiches at the grocery store this week and they're adorably tiny and delicious, haha!!!
Seriously though. I'm in a good space. My legs are achey from my run earlier, I've got a cup of herbal tea, and a kitty curled up next to me on the couch. My husband and I had dinner out with friends, I did not overeat, and life is good. I saw the cardiologist this week and he's not worried about me. I'm happy and feeling mentally balanced and gently, calmly dedicated. Good consistency and progress comes from a state like this.
So let's do it.