Quote of the Day: "Always be a first-rate version of yourself, instead of a second-rate version of somebody else." (Judy Garland)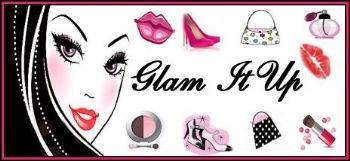 I'm having such a lazy Saturday, not so lazy that I'm lounging in my PJ's still. I did shower and all that, but I decoded to just do nothing. I did watch a handful of make-up videos on Youtube and some cooking shows on T.V. I thought of doing the make-up room, but nope that is tomorrows project. I did wash my make-up brushes though. So there's something I did.
So I promised a haul on Target and Michaels. Yesterday I mentioned that a new Michaels opened in the Target shopping center that I go to. It located across from the mall and you know what's over there. Yep, that theater that is now open to go and enjoy a movie, but let's not go there today. Today is about fun stuff. So, Michaels opened about three weeks ago and they are still having Grand Opening sales and coupons. I went in just to see it and smell that I'm a new store smell, you all know what I'm talking about.
I'm a huge sucker for journals and pens. I have this thing for them. Also all things Paris, ever since I was a kid love it.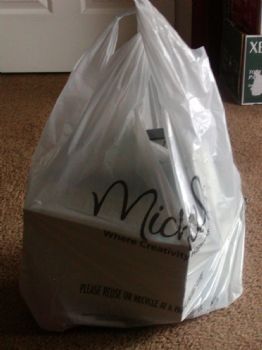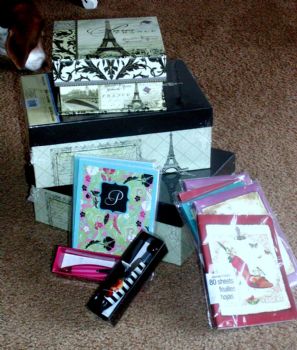 Photo boxes with the Eiffel Tower: you know I love all things that have to do with Paris. I really have no idea what to use them for right now, but they were $1.99 and BFF told me I will be there in another month or so complaining that I need a box for something and should of bought them so get them now. He so knows me, lol.
Smaller Paris box: still no clue what to use this one for either. I'm sure once I get the make-up room finished and decorated the boxes will be used for something. I think this one was $3.
Some pens that are called bubble pens for .50 cents!!! I got a couple of those.
Lined Journals for .50 cents again. I got seven of these, all have some fashion theme to it heels, tiaras, dresses and even a couple with the initial "P" on it. The plan is to use these for tracking my food and also a gratitude and maybe ideas for blogs to have them organized. I'm thinking of getting some more.
-*-*-*-*-*-*-*-*-*-*-*--*-*-
*-*-*-*-*-
Target Haul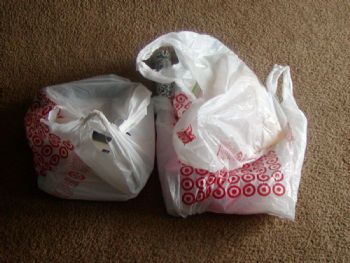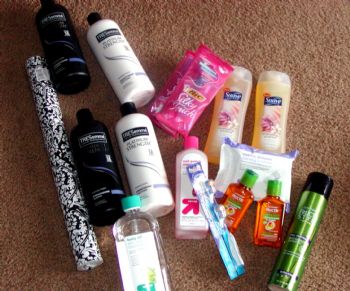 Up & Up Baby Oil with aloe and vitamin E: it's the basic Target brand one. I use this to take my eye makeup off sometimes, but mostly I use it right after showering to seal in the moisture on my skin.
Up & Up nail polish remover non-acetone: I normally get the clear one and not the pink top, but they didn't have any so I opted for this one. I have been thinking of getting some fake nails, but not sure. This is the remover to use if I end up doing my nails with fakes.
Bic Silky Touch razors: There are ten in there, only 2 blades though. I did get two packs because I'm not that hairy on my legs and it works perfect for them. You can't beat 10 razors for under $3 too.
Sauve Naturals Body wash in Everlasting Sunshine: Ahhhhhh! I love love this stuff. It is one of my favorite scents to wash with. It says it is infused with passion flower and vanilla extracts. It just smells yummy like candy. I bought a couple.
Garnier Fructis Sleek & Shine Moroccan Sleek Oil Treatment: You all know I did a verses blog with this and love, love, love it! I haven't even wanted to try another oil treatment product because I love it so much. You just put a little dime size in you hands rub them together and just put it in your hair. I use it when my hair is wet most times, but if my hair is getting flyaways this will help tame them too. I can't say enough good things about this and the price around $4.50, whoo-hoo!
Garnier Fructis Style hair spray full control anti-humidity ultra strong: The sale was to buy two Garnier products and then you get a styling product for free. I got two of the oil Moroccan oil treatments and this was my free product. I've never tried their hair spray, but I like a strong hold that fights the humidity because I have frizzy thick hair.
Tresemme Platinum Strength strengthening Shampoo & Conditioner: I love there stuff! The heat protector spray is the only one I will use. I've been wanting to change my shampoo and conditioner up and have seriously considered the new L'oreal ones that came out in January, but when I saw this I knew from past experience of loving their shampoos that I had to get this one. Plus I had a buy one get one free coupon, two of them and got two bottles of each. It says it repairs up to two years of damage in five uses. I use hot rollers, flat iron, my InStyler, hair dryer and use a heat protector all the time, but you can always use some help. This also has that fruity yummy smell that I love. I love fruity smells, not perfumy ones. I like perfume as the real thing. I'll review it some time in March.
Target Makeup Remover Wipes: I've never tried these, but they are suppose to take off waterproof makeup too. I really like wipes that are moist and you know full of something. Let me know if you have any suggestions.
The wallpaper looking thing is contact paper that has adhesive in the back and I'm going to put it on some of the makeup boxes that I got that don't make with everything.
Tooth brush replacement heads for my toothbrush.
There it is. All and all a good time, spent around $15 both places because I had a $50 gift card from Target. Now that is the way to shop!