Saturday, March 02, 2013
They are numerous and often we are reminded at the right time, just when we need them. While watching the animals tonight I had a bit of an epiphany. We should take more advice from our pets, I bet we would be happier!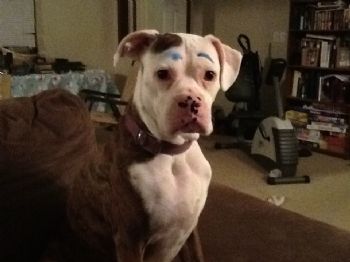 I don't know about you but every night I come home and the dogs act like I have been gone for a year! I get the full on body wiggle greeting complete with doggy slobber. Truthfully, they do this when I come in from work as well as when I come in from taking the garbage out. They have a weird sense of time.
No matter how much I have yelled at them for the annoying things they do, they let it go and move on just happy to be near me.
No time is a bad time to chase a ball and truthfully, my boxer can make ANY item in the house a game! I actually caught her with a real mouse once, she carried it around like it was the greatest thing since sliced bread!
My dogs are not scared of the dark, they are fearless and always ready to try something new!
No matter how bad my day is, they show me how much I am loved and appreciated.
So I have combined these awesome traits into a list of things we should strive to incorporate into our relationships. Both human and canine.
1. Be consistent
2. Be forgiving
3. Be kind
4. Be affectionate
5. Play
6. Be adventurous
7. Be a leader
8. Be a best friend
As for the cats, we are just lucky that they let us live here. The best lesson from them is that if someone makes you mad... Pee in their bed (works every time)..