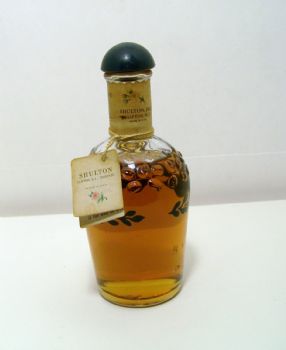 [Friendship Garden - my Mom's fav perfume when I was little]
Four years ago today, Mom went to be with the Lord. The details of what happened and other memories I have of her are here:
www.sparkpeople.com/mypa
ge_public_journal_individu
al.asp?blog_id=2938473
In my church, we call it a "home-going" because we believe that when we leave our bodies, we go to be with the Lord immediately. I am sad to not have her here with us because she was my best friend on earth and I miss her. Yet I am happy for her because I know she loved Jesus and she is with Him now, and she is also reunited with my Dad who died when I was young.
When Dad died, although I knew of Jesus and loved Him for what I learned of Him, I was not born again. We were not raised that way. What I didn't realize until later is that my Dad had become born again shortly before he passed. The day after his home-going, I had a very realistic dream of him. I was in a nature forest environment and there was mist all around; it was peaceful and I was not afraid. Dad came over to me out of nowhere. He looked younger and healthier; a scar across his face and nerve damage in one eye from when he was young were NO LONGER THERE. He looked perfect and healthy. He gently asked why I was crying. I said, "Daddy, because you're gone!" He said, "Honey, I'm not really gone. You will see me again someday and we will all be together again. for now, I need you to be a big girl for Mommy. She's going to need your support as much as you need her." Then he told me to always stay close to Jesus, to really get to know Him and to never stop believing in Him, and that Jesus would always take care of us.
Fast forward thirty-some years. Since Mom passed, I've had 2 similar dreams with her. The first was shortly after her passing. Shortly before I woke up one morning, I dreamt I was in a house but as I looked across the room I saw Mom and Dad standing together, arms linked, talking to someone, and they were smiling and laughing. What struck me was that Dad, as before, did not bear any of the scars or injuries he'd had on earth. Mom, too, who suffered with spinal problems and had always been hunched over, and who lost her teeth at an early age, was also restored. She was standing tall, looking younger and glowing with health. Her beloved dog Jimmy from when her and my father were married was there too, sitting happily at their feet. I tried to reach out to them - I wanted to run to them - but the vision faded. Yet I still felt comforted by it.
Recently, I had another realistic dream about Mom; again, she still looked young and beautiful. I was sitting in beautiful living room with her and we were having coffee in lovely china cups. I don't remember most of what we talked about except we were having a good time. At the end, she held my face in her hands and said she loved me, and that her and Dad would see me again someday, and not to worry. She told me, "Honey, just keep trusting Jesus." Then she smiled and all disappeared, and I woke up.
Today wasn't as hard as other years. I can remember Mom with love but without so much pain. I know in my heart and my spirit that I have a purpose to complete here on earth but, after I see the Lord, I am looking forward to seeing my wonderful parents again someday.
Here's to Mom... and to Dad. I was so blessed to have them for parents. I love them and think of them every day.
Wishing everyone a blessed evening and weekend. Hugs.