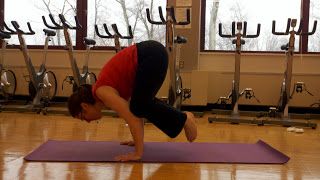 A former owner who'd had it in for me from the first, left The Nameless Studio and is no longer even a silent partner there. Left the yoga teaching field entirely for her first love--which has much more to do with Wall Street than a wall full of yantras ...
This has been for a year before I even had the guts to try to ask. As far as years go, it sure made MINE! I did not mince words as I told the business manager that, to her face. She obviously did not care to ask why. Perhaps I had not been the only one who had been 'touched' by that Queen Bee who'd played favorites, and had toadies and missed the politics of the finance world enough so that she brought it to the yoga studio with her ...
They don't teach only yoga. Never had, however, the yoga teachers' had been the only brains I'd picked for my home practice and the system I developed and had codified (and can mostly philosophize about now, since my health depends on cardio).
I will NEVER go back to The Nameless Studio for yoga, since they had never really changed their yoga style, even were I to never have developed Type 2 diabetes and/or stole time (from my caretaking duties) or otherwise had all the time in the world to augment my exercise with yoga practice.
They DO teach an Indian dance workout class there that I'm interested in. I have a feeling it is being taught by someone who had been a pilates teacher there ... I am sure her pilates background rather than the Indian cultural infusion means the more to me ...
I WILL go to a yoga class--elsewhere--but I am operating under the assumption that it is a mellow, throwback hatha class. No smelly, lung-clogging incense. No candles. You don't need to bring a sticky mat. It's included in the price--JUST like at the gym. You could even wear socks (though I personally CAN'T--because I have these diabetic socks now, you see--and they slip; but I appreciate the sentiment and the lack of sanctimony attached to "being able to wear SOCKS to yoga".)
I'd had this yoga teacher for pilates, SHE IS MATURE (like me--chronologically mature--I have had it up to here with young "old soul" yoga teachers who also deem themselves "more spiritual than thou") and her bio is not full of the trendoid styles at all. The yoga-pilates fusion system I developed, S.E.A. Change, is classic-infused slow-ish flow--middle path, and mild. But you already could have imagined that ...
With regard to this other studio, the former one, The Nameless one: as long as there is one class around that is taught (and it isn't yoga ... no love lost THERE) and a studio NOW run by, yoga teachers accepting of ALL kinds of students--voting any who fall short of the mark, off the island, as it were ... I will return and no longer totally have that dance practice within my four walls and not miss out on this form of dance I learned online (and by DVD) by one Hemalyaa Behl.
Gettin' my dance on live!

And my yoga--it will be the first live yoga class I will have taken in a year and a half. The rest - until very recently - has been regular, longer than class-length, home practice.
SOME Sparkversary!