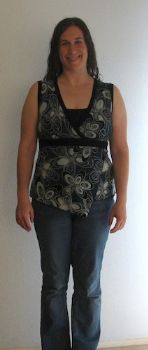 (end of February monthly pic)
Starting stats:
Weight: 159 lbs
Body fat: 31.1% (goal: under 30%)
Muscle mass: 30% (goal: over 30.3%)
Ending stats:
Weight: 155 lbs (-4 lbs)
Body fat: 30% (-1.1%)
Muscle mass: 30.5% (+0.5%)
February was good to me. For the first three weeks of the month, the scale dropped and dropped and dropped. I barely remember what that feels like, it's been so long! I had hoped the scale would drop this fourth week and land me at 154 lbs - a healthy BMI - but considering I've averaged no more than 2 lbs per month for the last 15 months, I'll take it! Plus - look! I'm almost to my goal for body fat, and I've already hit my goal for muscle mass percentage - and it's only February! Woohoo!
A few other monthly stats:
Inches lost: -0.25 from my thigh, -0.5 from my waist, no other loss
Spark's fitness minutes: 3419 (~57 hrs - skewed by Fitbit)
Actual fitness minutes: 1450 (~24 hrs)
Monthly calorie differential: 13,230 (should equal -3.75 lbs, which is pretty close!)
Steps taken: 353,733 (~161 miles)
Official walked/run miles: 75.25
Pull-up status: My six-week shoulder recouperation ended a week ago. I was afraid I would lose some upper body muscle in that time, but apparently the rest helped me, because the very first time I got on the pull-up bar, I was able to do a full pull-up for the first time in over a decade!!! Woohoo!
NSVs and February Highlights:
Well, it was a huge month for scale victories this month, reaching 100 lbs lost. I have to admit, that was the big highlight of the month. Nothing really tops that. But there were also a lot of other fun things this month. I have loved my Fitbit! That number of steps taken and miles traveled is huge!! Considering I only officially walked/ran 75.25 miles, that's a lot of miles I put in when I'm not officially exercising. No wonder I burn such a high calorie amount every day. On my most sedentary day this month, I still got in over 6000 steps. I'm so very happy I splurged on my Fitbit at the end of January.
Let's see, what else...oh! I'm starting to be able to see the shadow of ribs on my side when I stretch. There's still a layer of fat there, but if I stretch my sides, I can see the skin ripple over where the ribs would be, and that makes me happy! I don't want protruding ribs or anything, but I do want to be able to see them when I stretch again. Hm, other NSVs...of course, there's that huge leap I mentioned above in my pull-up status. I've only been able to do a full pull-up a couple times - and never more than once on the same day - but I still have hope I'll be doing multiple pull-ups by the end of the year. And another great moment: It was fantastic to tie my personal best 5K time this month, at a run with my dad and stepmom. I love doing these sorts of things with family!
I hope March will bring just as many wonderful moments! It's my 34th birthday today (party party!), and I have lots of plans (including a Spark dinner with my local team tonight!), so I know the month will at least start out great!