JOIN ME in a SP Workout Game Challenge - SIA Week 2
Thursday, February 28, 2013
Do you enjoy watching television? Are you FED UP with being interrupted from one commercial following another in between your shows? IF SO, there is a SOLUTION on how we CAN handle these annoying interruptions and lose calories at the same time! LET'S GET PHYSICAL!!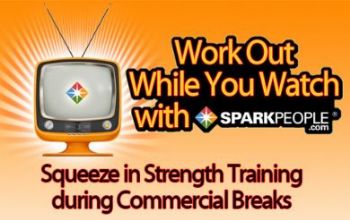 ARE YOU READY to convert your annoyance of commercials into burning some calories? ARE YOU PREPARED to elevate your metabolism by getting off the couch? Then, LET'S GO FOR IT!! JOIN ME and LET'S GET PHYSICAL!! It's time for the SparkPeople Commercial Break Workout!! I guarantee that you will be fired up from your head to your toes! I will be hearing you yell, "I CAN DO IT!!"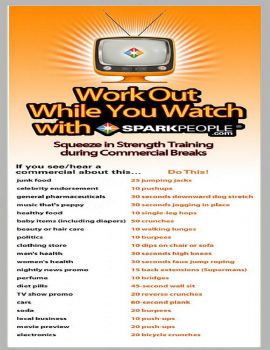 Now, isn't it FUN to watch your shows and be interrupted by commercials that are actually good for your health? Who was it that said television is a sedentary lifestyle? I'm NO couch potato! Are you? Make exercise a habit while watching your shows!!
The following is the link for a larger version of the SP Commercial Break Workout image:
www.dailyspark.com/blog.
asp?post=the_sparkpeople_c
ommercial_break_workout
~ Monika ~