Intro: Too much stuff, too many pounds. My plan is to tackle both of them bit by bit. For the junk, 3 things a day. For the junk in my trunk, it's more complicated.
2/28/13
No philosophy today other than boy this stuff is a lot of stuff. And how much of our most important stuff (time) little stuff (junk) takes up. I'm sitting here waiting for my iPad to charge as I'm apparently incapable of running on the treadmill without something to distract me. Mainly I enjoy The Biggest Loser over and over, having long since stopped judging those poor people. It's been suggested to me that I would be a great contestant. Miraculously, I am still friends with the people who've said that. All I can say is that my well-meaning friends are very wrong.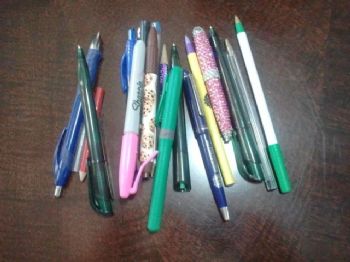 1. Pens! This is what I decided to throw away after going through ONE pen cup. The brown one with little chocolate chips on it smells like chocolate. I need this? The pink bling pen is too stumpy and hurt my fingers when I tried to use it - it was part of a set that came with an equally blinged-out computer mouse. I dislike pens without caps and I see someone walked away with a golf pencil... hm. To the businesses whose names adorn the pens I am about to discard... I have never used a pen as a source to decide on a new plumber, bank, conference center or therapist. The only useful writing that belongs on a pen is who made it so I can buy another one and for expensive pens, your name and number so I can return it to you. Because a good pen is as hard to find as a good friend but so much easier to lose.
Result? Took them to work, where we are always running out of pens (and where I always bring my own).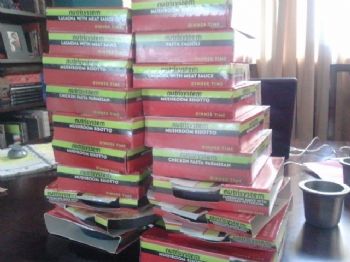 2. Nutrisystem meals. This is not to bash Nutrisystem or any diet where you buy pre-packed meals. I think they can be very useful for those needing to reset their interpretation of portion-control with no regard towards sodium content or taste. A friend told me they really enjoyed Nutrisystem and was pleased with his results. The fact that we've since lost touch has nothing to do with that outright lie. I think he just wanted to hear the shrill screeching sounds that came out of me the first time I plopped a spoonful of this chemical glop in my mouth.
Result? Tossed. As much as I hate wasting food, first of all, this is not food. Second, it's so old it's not safe. Just on the "old" point. Third, I considered donating this but it opened up a whole other line of thought: is it tacky to donate what is clearly diet food to hungry people? It makes me embarrassed. My biggest worry is how to control how much I eat, not how to find what I need for myself or my children. Something I will ponder on the treadmill in a bit, especially the historic aspects of this concerning growing up hungry and eating cheap food.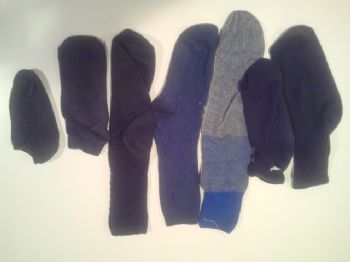 3. Socks. About every 6 weeks or so (not as often as I'd like) I finish the laundry completely and sit down to pair socks. I have 3 full laundry baskets of socks. Ridiculous. Mind you, these are not exclusively MY socks. When I need socks, I buy 12 pair of the same style. This makes it easy to find a pair. As they wear out, I toss them. When I press the issue, my children assure me they need these socks and more. As recently as this past summer there were socks in the basket from when they were 8 years old. they are 18 and 21 now. So - knowing they don't read this blog - I confess to you: after sorting, whatever doesn't match gets tossed. This is an average toss. I'm waiting to see if I can get down to one small basket each of black and white socks before they notice.
Result? Tossed. Shhhhh....
No Keeper today. Gotta run. Literally.
"There is no little enemy." ~Benjamin Franklin