Does this indicate Iím spending too much time at the computer?
Thursday, February 28, 2013
Iíve worn the letters right off the keys.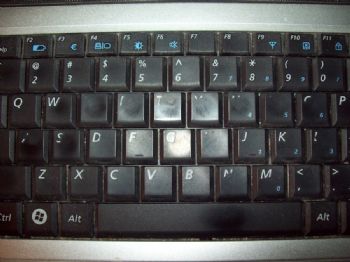 I hope the picture is clear enough.
The letters
E,R,Y,U,I,O
A,S,H,L
N
Are totally or almost all worn off.
My laptop is 5 years old. Iíve just bought a new one, but still spend time with this old reliable. Iíve been retired for 5 years so that does explain the time to be online. Still, I was a teacher and technology coordinator in my working life, so being attached to a keyboard was always a normal part of my day.
I remember reading ďThe Gold BugĒ in elementary school about code breaking based on most used letters of the alphabet. The wear on my keyboard verifies this theory. The Q,W,Z,X,C,B,V are as good as new.
Regardless of the effect on my keyboard, I must say that the time spent online has been very worthwhile. Itís partly responsible for the ďnew me" since the time spent on SP keeps my motivation high and the support I've received has encouraged me to keep writing.
However, itís a good thing I touch type. My keyboard really frustrates my Ďhunt and peckí DH.