Turn Out The Lights
Thursday, February 28, 2013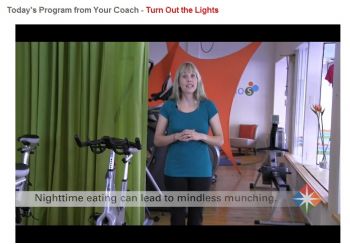 Goodness! Coach Jen has been spying on me! THANK YOU, Coach Jen!!! I needed you to do that!
I've been having a really tough time. I keep wandering back to the kitchen in the evening. Sometimes I don't eat much, but it's becoming a bad habit. I know what it's all about. I have full understanding. That is not the problem. My issue is that the stress of the event has been bigger than my resolve to stop the evening munching. Thankfully, I only have healthy foods in house now. But all the same, the habit needs to be broken.
So, when Coach Jen challenged me this morning to turn out the light this evening after dinner, I'm fully engaged in that challenge. So engaged that I'm telling EVERY ONE about it. Right here. Right now! Lights are out in the kitchen after dinner. No wandering back to see what's available. I can do this! I can overcome the stress that has encumbered me! I am doing this today! And each day forward! Join me if this is your issue too!