It's my birthday - come see what I got!!
Wednesday, February 27, 2013
My husband and I don't really do a big Valentine's Day thing, we never have. We've gone out to dinner a few times, a few flowers, but generally speaking, over 26 years, Valentine's Day has always been low-key. This year was even more so, as we were both working. On a break, we were talking and he mentioned that he'd have liked to have gotten me something. I told him that I had been toying with the idea of a Pandora bracelet, and if I got one, he could just get me a charm going forward. For the record, this idea works out really, really well for me, because while my husband doesn't do Valentine's Day, he does do "It's Tuesday and I love you".
We spent 2 weeks looking at different brands of bracelets and charms online, and decided to go with Pandora, then we found local stores that carried them. Then this morning, he called down from the bedroom, asking if I wanted to go to the mall. Please. As if I'd ever say no to that suggestion!
So after some quality time at Belle Jewelers, I've got my Pandora bracelet started. My Sunshine did well, didn't he?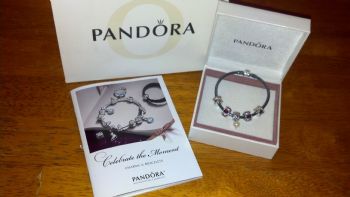 For the curious, the charms we got to start the bracelet are meant to symbolize our family. Basic birthday math: January's garnet + February's amethyst = June's pearl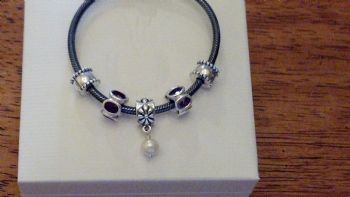 I'll let you all know how my collection grows... I saw several charms and beads at Belle's today that I definitely see in my future. Also, the sales lady let me know that the oxidized silver bracelet that I chose will be available in a necklace soon. Yeah, I see that in my future, too.