I'm feeling much better today. It turns out that St.John's Wort is supposed to be taken (with food), which is how I took it yesterday. I took my 3rd dose today at 2 pm, and no issues what-so-ever.
The first day I took it between meals thinking it should be taken that way, as 5-HTP is to be taken between meals. And so, I thought being they are both serotonin precursers I thought both would be taken between meals. But, taking the St. John's Wort between meals gave me too large a dose, especially being it was the first dose and I wasn't adjusted to it. I guess I need to read labels better.

I plan on continuing to take a serotonin precurser for at least until I get 'stable' on being on plan and dealing better with my food issues - ie not bingeing on sweets. Or for as long as I can tolerate being on it without side effects that negatively impact my health. Continuing to gain weight has certainly negatively impacted my health, so it's kind of a matter of weighing the benefits vs. the side effects.
I do know that I will be staying on the lowest dose possible that will help me deal with my food addiction and bingeing, as well as helping lift me from depression. I assume there will come a time where I would go off it even if I'm not having side effects, but I would still be willing to go back on it during times of need.
:~*~:. .:~*~:. .:~*~:. .:~*~:. .:~*~:. .:~*~:.:~*~:. .:~*~:. .:~*~:.:~*~:. .:~*~:.:~*~:
It's A Dog's Life
Yesterday I took Mocha to the vet and left Shatzi at home. When I got home Shatzi cussed me out good (looking intensely at me while barking). And, then when I let him out of the laundry room he 'cussed' me out some more. I'm NOT to be taking Mocha without also taking him! A whole lotta attitude on that little dog!
Then in the evening Mocha got into trouble and I put him into the crate for awhile as 'punishment'. Shatzi went to his bed in the living room but laid there and growled and growled his objection about my punishing his buddy. So finally I told Shatzi to "go to the laundry room", which he did. A half hour later when I went to get Mocha out of the crate Shatzi had his nose right up to the crate door, and I just couldn't get Mocha out of there quick enough in Shatzi's mind.
It's amazing; When all my other dogs were alive Shatzi wanted nothing to do with any of the other dogs. But he LOVES Mocha. Maybe it was his being alone for awhile after the other dogs passed away… But, he is so tolerant of Mocha that Mocha can - and often does - literally lay ON Shatzi when they sleep.
And, apparently he loves Mocha so much that now he's Mocha's defender. At least he only barks, growls, and grumbles. He certainly lets 'ya know what he thinks….
:~*~:. .:~*~:. .:~*~:. .:~*~:. .:~*~:. .:~*~:.:~*~:. .:~*~:. .:~*~:.:~*~:. .:~*~:.:~*~: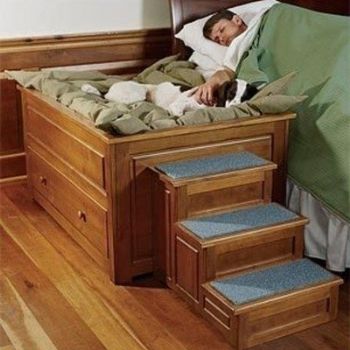 Shatzi would LOVE this!
:~*~:. .:~*~:. .:~*~:. .:~*~:. .:~*~:. .:~*~:.:~*~:. .:~*~:. .:~*~:.:~*~:. .:~*~:.:~*~: