Healthy Balance ... Remembrance Photo Attached
Wednesday, February 27, 2013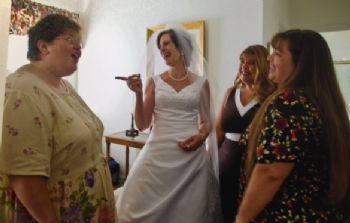 I was looking through my wedding pictures with some friends today. We were having such a fun time! What I could see and remember was a time in my life when I was losing weight and couldn't stop. It was a frightening time. I don't want to go back there again! My sisters who are surrounding me in this picture are about the size that I was when I started my journey. I don't want to go back there either.
Going through those pictures reminded me of a time when I was out of control, when I couldn't see food for nourishment, didn't see it for it's unhealthy value either. Just simply wasn't bothered by it. Looking at those pictures reminds me that there is a healthy balance of food.
One day at a time ... good food ... balanced thinking ... the journey is possible!