I have struggled all of my adult life with being overweight. Like so many others I have lost and gained and lost and gained weight over the years. I joined SparkPeople a few years ago, and although I have always thought SparkPeople was a great site, it was almost as if I expected that 'just because I was a member', I should be loosing weight.
It's sort of the same mentality that I had with exercise equipment. Because I own it, I should be fit. Why should I have to actually USE it.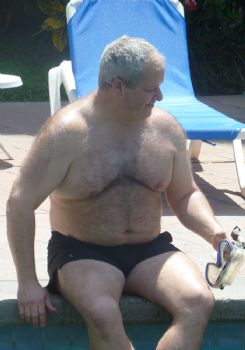 In April 2012, I peaked out at my heaviest weight ever and I decided I HAD to get serious about loosing weight. The first team member I recruited was my wife. We talked about meal plans, decided on a course of action and went for it. Along the way, we tried an elimination diet, just to rule out any hidden food sensitivity or allergies. It turns out I was fine, but my wife had a strong sensitivity to gluten. I decided that it wouldn't be fair for me to eat bread in front of my wife, so I went on a GF diet as well. I think the lack of breads actually helped my lifestyle eating habits
I started on a walking fitness program. I would walk about 7 kilometres (4.4 miles) 4 to 5 days a week. I chose a route that incorporated some steep hills and gradually built up my speed until I was averaging 6.7 km/h (4.16 mph).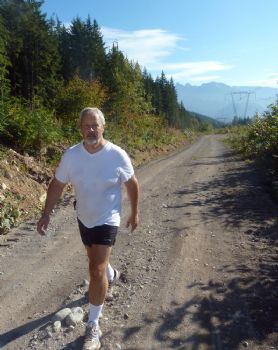 As my weight loss began to be noticeable, my son decided that he had to loose weight as well. In September, we joined a 'Health Challenge' that our local newspaper was having. Our journey was documented with weekly photos, a brief blog and reports of our weight and inches lost. Apparently there was a lot of reader support, and it was not uncommon for strangers in our town to come up to my son or I saying that they were following our progress.
Our entire family was now on board, eating healthier and exercising as they were able. Because of his own health issues, my son could not exercise hardly at all, but he lost weight steadily and almost kept pace with me in weight loss. By December we had both lost over 50 pounds. What a great Christmas present.
I am not at my ultimate goal, but I am getting very close. In February 2013 I weighed in at 185 pounds.
I have had a few setbacks along the way, but all in all I am extremely pleased with my weight loss. My cholesterol is down in the low normal range, my resting heart rate and blood pressure is better than normal, my body fat percentage is great. My Dr even had to lower my thyroid medicine because of my weight loss.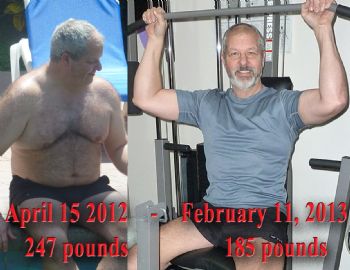 I am aiming to get down to 180 pounds, but I am not in a hurry. I purchase a popular DVD exercise program to get even more fit (I had to sell my home gym and treadmill - but that was to make room for the grand kids - so that's OK) and I purchased a chin-up bar that I can bolt up in the garage. I am going to tone up and lean out a bit more, and then start a maintenance program to keep in the range from 175 - 185 pounds.
From April 2012, it seemed like a daunting task to loose that much weight. The long range plan seemed too far away. The week by week weight loss seemed minuscule in comparison to how much I needed to loose. In hind site, I am amazed that I was able to loose the weight that I have carried since my 20's so quickly. This has been an amazing metamorphosis.
I hope my story is an encouragement to you.
Press on with your plans. Get serious with your plans.
Share YOUR success story.