Quote of the Day: "Positive thinking will let you do everything better than negative thinking will." (Zig Ziglar)
I'm big finding ways to track what you're eating because you need to be able to see what you are putting inside your body. I also know that what works for one person may or may not work for another person, it depends on the person.
I mentioned a couple of days ago that I have a food diary that is just gathering dust in my bag of diet stuff and I pulled it out and opened it an found this ......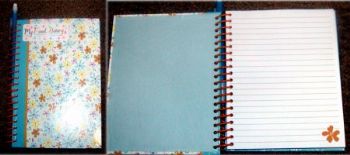 NOTHING! I have no one thing written down in it, not even a date. I have three of these notebooks around the same size. I got them at Michaels on the $1 bins. The notebooks are a good size that I can throw it in my purse or workbag and continue to track throughout the day, but the problem is actually doing it.
This week I'm starting things fresh again because I've been more bad than good when it comes to my weight loss. I managed to drop two pounds without really doing anything, just some cutting back on things here and there. I think that in order to put things back together and get myself back on the right track I need to get some things in order and that means watching what I eat and writing it down because I need to physically see what I put in my body.
I have some ideas on what I think will work for me and maybe it will work for you. If you have different ideas please let us know in the comments and maybe something will work for one of us.
Get a food diary: find a cheap dollar notebook and a pencil, not a pen because you might put it down before you eat it and it may have changed or you had more or less. If you use a pencil, you can erase and change things throughout your day to make sure it's correct.
Write everything that you put in your mouth no matter how big or small it is. A bite can go a long way into figuring out when you eat mindlessly.
Write down what you do for exercise each day and how many calories you are burning. Then total your food calories each day to see how things are going from day to day.
Some people like to weigh in daily, but I like weekly because doing it daily got me obsessed with the scale in not a good way. Make sure to weigh in on the same day and around the same time to really see your numbers. I like doing it first thing in the morning before having anything to eat or drink.
Above all tracking what you eat and how you exercise is the key to having a successful weight loss. I like writing things down and also tracking them here, double accountability for myself.