"I'm tough, Captain. I am. I really am." I insist to my boss (she's 'Captain' since telling me she's not old enough to be a "Ma'am"), I say it as tears of pain are streaming down my cheeks. Her usual sexy, raspy voice turned almost melodic when she comforted me with, "I know, but, it's okay to not be tough all the time. Take some time to heal and call me. I can make sure you get your hours and some time to recuperate."
Then I was driven home to sleep, cry and growl my way through a migraine.
I have my doubts about being allowed to not be tough all the time. I have my doubts with her knowing how not to be tough all the time. I think she's really a super hero (she broke into my car to retrieve the only set of keys I had for my van – in my van) and this boss gig is a cover.
Also, I HATE being vulnerable. Crying = vulnerable.
That is not 'okay'. Also, crying at work is a humiliation of epic proportions. I hate crying.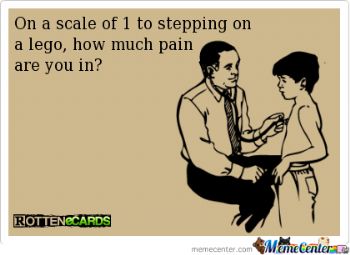 I started today in a cranky mood. My smile was stuffed up where the sun don't shine and I was here physically but that's it. My mind was out for a wander and I couldn't find it. My british buddy (I gotta come up with a nickname for her) she called me on it and together we figured I was a little 'off' and then we determined it must be a miscalculated time of the month. We promptly cursed teenage girls that pull our cycle and she slipped me a Midol with instructions to NOT maim Miss. Mean. (A good friend knows when you're hiding your sunshine a better friend works preventatively).

I've been internally begging for that little Chihuahua co-worker of mine to even toe the line with her snarky, mean spirit. I was all prepared to ground pound her superiority complex with a biznotch slap that Miss. Piggy would envy. I was okay with being arrested over it. She's been spreading rumours, and insults like icing on a cake...she's convinced she's doing the world a favour by criticizing my every breath. She's only successful at sucking the joy out of my day. A jovial, lighthearted room is turned to stone misery when she enters and it's miserable to be around her.
I was prepared to hurt her today. The thought was the only thing (next to being enveloped in my hubby's arms) that brought a big smile to my face.
"Revenge is mine saith the Lord." He meant it. He sent me a migraine to keep my attitude in check. I think it's the first time I've ever thanked Him for pain. I didn't want to be the person that was brought down to that ugly level and He didn't let me fall.
"Liz, she's jealous. You walk into a room and people feel your love for them. They know you genuinely care. You're refreshing, sweet and cute. You're something that she chooses to not let me help her be. You share joy, she gives pain. I created you to be a happy Tulip in this Garden called Life. She chooses to be a thorn instead of the beautiful person I designed. Please let me protect you from her sting instead of choosing to be a destructive weed yourself."
Migraines and Spring Fever make for wonderful analogies.
Life is a garden and you its flower ~ you grow girl!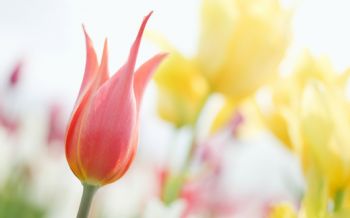 Which flower are you?
www.flowermag.com/quiz/