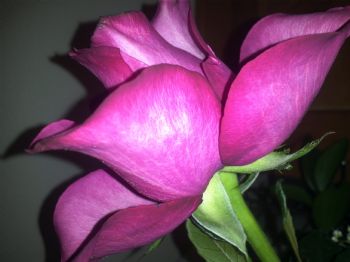 I have said before - under normal circumstances - I eat healthy. I also love to exercise - at least I am able to find several ways to not only like it - but I can also find ways to "pretend" I am not exercising by having fun too.
My biggest challenge is time

.
I cannot overlook that in the two weeks I have been a SparkleGurl I have exercised a minimum of 3 days each week (and felt really excited when I went over that goal). I figure as long as I keep on that path I am doing pretty good.

However - I do know there are things that I can be doing that will help me even further. I also know that if I just keep that knowledge to myself - it won't get done (been there / done that). Thoughts are curious things - you know what you should be doing - you might even voice that opinion (perhaps to yourself or even someone else) - you might even set goals - but for some reason it just doesn't get done.
How many times have I said that we really need to make it a goal to go to bed on time? Then why is it every night we go to bed saying "darn it - we did it again!" I know my plate is full with homeschooling - taking care of the house and everything else that falls at my feet. However - REALLY - how hard is it to just turn it off at night - to know that it will still be there in the morning - waiting for you?
DH is terrible with this - he wants things a certain way - has some expectations that just aren't possible with all the burden that I carry - and often, he even knows it. He grew up in a home full of sisters and a full-time stay at home Mom. It was a little easier burden for her to carry - but it still was a burden, I'm sure. I need to start speaking up - to demand that "no, it can wait till tomorrow. It won't kill us if the laundry doesn't get put away right this minute" (at least I hope not!



When I get up late in the morning - I feel terrible



- I feel a loss at every moment that is wasted - I feel guilty. It's not really waking up on the wrong side of the bed . . . but it is - it often sets the success rate of the rest of my day. I go to bed late - I feel more tired the next day - less energetic and less likely to be as active as I would like. I drag through the day. I also often eat later - once I get everyone started - coffee cup in hand - I eat closer to lunch which means I often skip lunch. Then - dinner time comes and I am so hungry I eat more than I normally would. So - instead of eating until I am comfortable - I eat until I am full. At night time - since I skipped lunch - I usually am hungry (at some point before I go to bed) so I have a snack (yes - I know it is late, but I am hungry!) Lately I have been snacking on good things - a bit of popcorn - some apples - some oranges. That wasn't always the case. However, I think that if I could just reset this system we have going - there would be no need for it. If I eat my meals - properly spaced - I tend to eat less - and I tend to eat healthier.
Now - on the days we don't have projects - dh (and I am guilty too) decide to break down and watch a movie. Seeing as we don't do that until the kids go to bed - it means we go to bed late. I keep telling dh that we should set a date night - where we only do this once on the weekends or something. However, does it happen? No. I have even set the day once - and announced it. The next day, dh has a hard day at work and wants to watch a movie to unwind. Sometimes we end up watching something several nights a week. So - I am saying right now "I am going to set it as my goal to go to bed earlier. Period."
It's almost like we are allergic to going to bed a a decent time. Before kids - we did great. Mind you - when we married I was a night owl and he was the early bird - but he converted me over. However, after kids - it has been a struggle. We both try to take time for ourselves - and each other - but it gets too late. I can't even count how many times we have felt bad for going to bed late - again. I can't even count the number of times we say it will be different tomorrow. I can't even count how many times we have come up with ideas on how to improve our schedule - and nothing happens.
Well - it's not any different than struggling to lose weight - YOU CANNOT EXPECT TO ACHIEVE SOMETHING DIFFERENT BY DOING THE SAME THING EVERY TIME. We have to own this - and I guess this is one I am going to own - with or without help - because it just needs to be done already.
So - starting right now I am going to try to make it a serious goal to go to bed at a more decent time. I am going to make it a goal to not start "projects" just before bedtime. I am going to make it a goal to actually schedule in some "me" time or "our" time as well. I am going to put my foot down and declare whatever day as date night and any other time is off-limits for a movie. I have to do this for me - and to help myself continue successfully. I know I can do it - and I guess that's why I'm writing it here. Once it is out there - it cannot be undone. Now you know my weakness - and it is up to me to overcome it.
By the way - I haven't overlooked the fact that dh hasn't been exercising as much as he used to. I am certain that this will not only help me - but it will help him achieve his goals as well. It's a win-win situation!
Sumay