I'm going to permit myself a moment to be self-satisfied. Pleased that I hit 1000 fitness this month, that's a 2 month streak. Trending positively, which is good considering that I'm coming off a negative 2 month streak where I struggled to get minutes in at all, not to mention quality minutes.
Yesterday, DW cooked up some stuffed red peppers. They were beautiful, immaculate, really. Big, rich, filled with a mix of chopped red peppers, sauteed ground beef and onions, and brown jasmine rice. Much like how I feel when I track cycling fitness minutes (guilty because it's so enjoyable it almost feels like cheating), this was a joy of a meal and had an excellent nutritional profile. Good, clean fuel to build.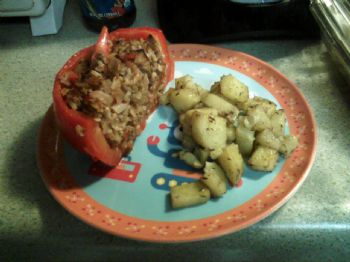 I boned up on my reading, started supplementing w/ assorted protein powder because even eating clean fuel, my lifting load has been much heavier recently, and breaking down muscle needs to be built back up with recovery and building blocks to repair.
My best friend hooked me up and sent his copies of P90X & Insanity. Tools. Excellent. It's funny because he's known me since we were in 6th grade, so he's seen me at my absolute worst (we roomed together in college for a year, so you can imagine, I'm sure). The pizza, beer, and no fitness era.
The plan is to assess if there is enough time to start and finish one of the programs prior to the 140 mile ride in May. The last thing I want to do is overtrain, burn out, and not be able to do the ride I'm training for in the first place. That would be lame beyond belief. I may hold them in reserve until we finish the fitness program we have on the weekends (probably another 3 weeks).
Weight has been shifting all over, but not outside the parameters I'm comfortable with. The increased strength training load has been wrecking havoc and the bod is trying hard to adjust to an element of training I've neglected for an extended period of time. I'm not worrying excessively about it because I'm seeing quick gains in strength and body composition, so there's a lot of variability with the increased fluid intake and protein loading.
It's important that I avoid a situation where I not see the forest from the trees because I'm so focused on cutting weight when I'm obtaining the increased strength I'll need to generate steady high power for an extended period of time.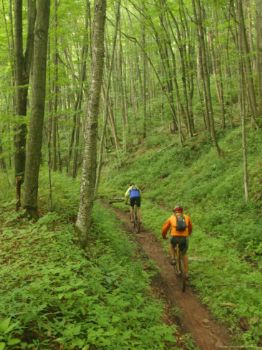 Requested some additional books from the library so that I have additional resources to change up and tweak the Spartacus Workout I've been depending on for the last several weeks.
This is good, we'll endeavor to get more of this.
Focus on your goals, how long it takes is irrelevant. Be prepared for the long haul. If it takes years, it takes years. Do what needs to be done.