Kookaburra! I saw a kookaburra!!!
Monday, February 25, 2013
Took a walk in the Royal Botanical Gardens Melbourne and saw this: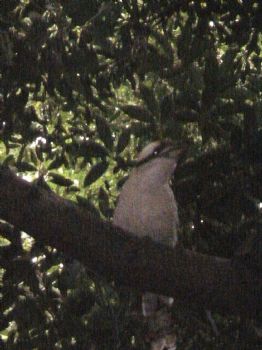 Not a great photo, but it was getting dark and he was up in a tree - but how cool!!!
Also saw cockatoos a few days previously, roosting on the National Gallery - amazing!!!!
Here are the links to the blogs:
rollingluggagers.blogspo
t.com.au/2013/02/royal-bot
anical-gardens-melbourne.html
rollingluggagers.blogspo
t.com.au/2013/02/they-aren
t-penguins-but-cockatoos-are.html