Why Wait Til Tomorrow? Healthy Chicken Casserole
Monday, February 25, 2013
Here is my entry for the third week of the At Goal & Maintaining Plus.... Team's recipe challenge. I was going to wait until tomorrow, since I already blogged today, but since they've already posted the 4th week challenge, I decided I should get on it!
I made Chef Meg's Healthy Chicken Vegetable Casserole. The recipe is available at
recipes.sparkpeople.com/
recipe-detail.asp?recipe=7
36959
. I just made a few adjustments based on what I had in the house. I didn't have any white pepper, so I settled for black pepper. I had one big orange bell pepper (someone helped themselves to the other one I'd bought for this casserole), but I had just under 20 ounces of broccoli -- so we settled for a little more broccoli and a little less bell pepper. The only flour I had in the house was organic whole wheat flour. I thought it might not thicken as well, so I added .5 T for a total of 2.5 tablespoons of flour. The rest of the ingredients I followed as written, although when I took the foil off after 20 minutes in the oven the cheese was already melted and did not require more time.
Here's what it looked like: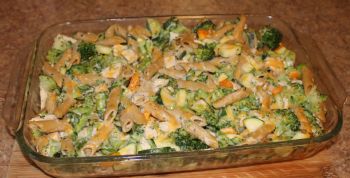 The recipe was very good. I liked it a lot and could eat it weekly. Although I don't mind eating plain chicken, plain vegetables, and almost plain pasta. Would be less work, fewer dirty cooking dishes, and I could skip the butter, flour, and cheese. My picky daughter looked at the leftovers and volunteered to come back and eat it again later this week. High praise from her, indeed!! Her hubby liked it, too. The guys added more shredded cheese to it. The kids weren't crazy about it, but ate a few bites. My husband said it would be great if it didn't have the zucchini. Perhaps if I make it again, I'll have orange and green bell peppers with the broccoli and no zucchini. If anyone has another suggestion, please let me know. Artichokes? Green beans? He'd eat onions and mushrooms, but she wouldn't. I do have challenges cooking for different people's tastes, but all in all, I'd rate this recipe 4.5 on a scale of 1-5!!