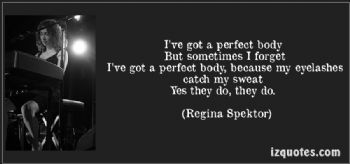 This is a quote from a song called Folding Chair by one of my favorite artists, Regina Spektor. I love that line and I just wanted to share it with you.
No matter where we are in our lives, no matter if we want to lose weight, gain weight, tone up or whatever, we should love and appreciate our bodies TODAY. Think about how amazing they are; think about all their amazing functions; the strength of our muscles; the hearts beating in our chests; our lungs providing us with oxygen. Our bodies are MIRACLES. We should always love them and treat them with the love and respect they deserve.
It's all too easy to get caught up in the beauty ideals of our crazy, superficial society. Too often do we hate our bodies because they are "wrong": we are not tall or slender or curvy enough, or we're too tall or big or our bone-structure is not what we want it to be. There is always something wrong, something missing. We are taught to look for these flaws and imperfections, and eventually they consume us. We look in the mirror and all we see is flaws and things to work on.
What a waste!!
I have done it way too much in my lifetime and I'm trying, really trying my hardest to stop that kind of thinking. Instead, I look in the mirror and this is what I see: a healthy, strong body. I am so thankful that I am healthy. I'm thankful for my legs that carry me where I want to go. I'm thankful for my heart that beats in my chest, for my lungs that bring me oxygen, for my brain that allows me to think all these things and so much more. I look at myself and see a unique, PERFECT, body.
I am still working on becoming even healthier and stronger and I'm probably going to lose some weight in the process. But this is no longer about chasing some universal "perfect body" that I think I will somehow miraculously have if I just keep putting myself down long enough and pushing myself harder and harder. Why do we all want to look the same anyway? We are all unique. It's crazy to think there is some kind of a mold we can all fit to if we just try hard enough. How ridiculous is that?? I am ME. And that's enough! I want to take care of this body I have been given by giving it the exercise and the nutrients it needs to stay strong and healthy. And that is all that matters.
Please try and love yourself today. Take some time to think about how AMAZING your body is!!! What a gift! What a miracle. Let's treat our bodies with the love and respect they always should be treated. After all, we owe them our life.