"Mindfulness" is, by my definition, "being in a position of actively looking at what is happening right now."
That's the Matt definition.
I keep things simple.
You might have your own definition.
That's OK.
"Mindlessness" is, by my definition, "doing without thinking" or "relying on habit, repetition and automatic reactions".
Mindlessness is, by my account, a leading cause for failing to lose weight and maintain that loss.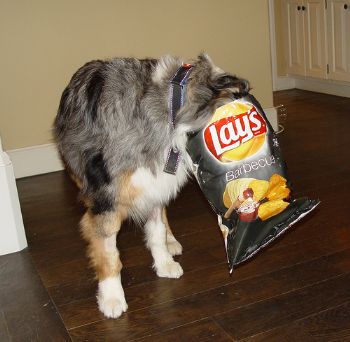 Mindless behavior is the sort of stuff I did when I was sitting in my La-Z-Boy with the "family size" bag of Cheetos, munching away while I watched Biggest Loser.
Ironic.
And sad.
Active eating is KEY.
Distracted eating is a KILLER.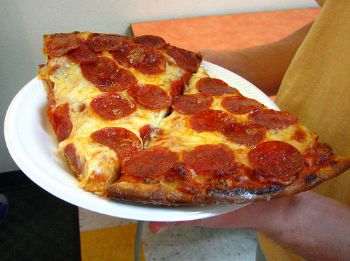 How many times have I eaten 2, 3, 4, 5 or 6 large slices of pizza while sitting in a "working lunch"?
More than I care to admit.
And, let's be clear here... two slices was an outlier.
Because I ALWAYS started with two slices.
And then I'd have a third.
And if it was still available, a fourth.
Rinse and repeat.
Easy math time.
Let's say 350 calories is the magic number for one slice of pizza.
Last Friday was a quarterly "working lunch" day with my team.
Five folks sitting around a table.
Reviewing topics and assigning priorities.
Talking about near-, mid- and long-term assignments.
And eating pizza.
I KNEW we'd be having this meeting and did my homework.
Particularly about the pizza.
I had one slice.
350 calories.
Plus some carrot sticks later.
I didn't need TWO slices.
700 calories is more than 1/3 of my target calories for the day.
And it is SO EASY to eat multiple pieces of pizza.
Especially when someone else is paying.
Especially when there is plenty of it.
Especially when I am preoccupied with an ongoing discussion.
I've definitely consumed 2100 calories of pizza during these meetings in the past.
Insane, isn't it?
2100 calories.
One meal.
Mindlessness at its worst.
Unless and until POSITIVE behaviors are the DEFAULT, mindlessness related to eating will start to undo the progress.
I personally am dealing with AT LEAST 25 years of bad habits.
It's more like 40 years, truth be told.
But 25 years of my adult life has been spent reinforcing the bad habits.
25 years of on-again, off-again bouts of overeating.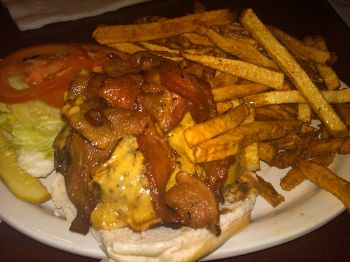 Mindless consumption of pizza.
Ice cream.
Burgers.
Breakfast sandwiches.
Twizzlers.
Tacos.
Spaghetti.
Cereal.
Cookies.
Chips.
Pretzels.
I can keep on listing foods but you get the point.
ACTIVE eating is the answer.
Until you've replaced your bad habits with good ones it is the ONLY answer.
Make it a great day!
Matt
[Thanks to carterse, gleepythehen, pinprick and Seattle Municipal Archives for the use of the images in this post, under Creative Commons license.]