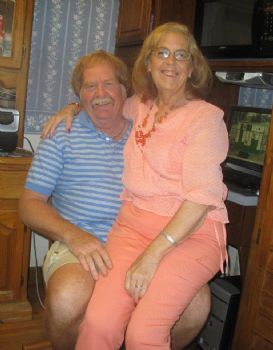 Me and My ROCK!
I am so scared. Hubby's prostate biopsy was positive for cancer on both sides. I'm doing all the research I can right now on the internet and the doctor's office will be sending us literature as well as suggestions on books to check out or buy and read about this cancer and the treatment options. I never expected this. I JUST KNEW there was no cancer, that it was just an enlarged prostate. I refused to even consider the possibility it might be cancer. I think hubby knew all along it was cancer. He has been so ill. The nurse called our house this morning and I stood there stunned as she gave me way too much information. Then I was to call hubby, who is at work. But in the end, I knew I couldn't convey all that information to him adequately and I asked her to do it, knowing how hard a call like that would be (WAS) to get, and to get it at work---unthinkable. But I knew he needed to know.
When I called hubby later--he was reassuring me. That's who he is--only one of the many reasons I love him so much. He is my rock, my love, my life. Right now, all I want to do is hold on to him for dear life and never let go....but he's at work. I'm alone at home, I've let my three boys know, and told them I will be depending on them for support. I know I can count on them.
This news for me is all tainted by my father's battle with prostate cancer which ended in 2007. When they diagnosed him, he was well into his 70's (77 years old, I think). I remember sitting in the consultation with his urologist, and the doctor reassuring my dad that prostate cancer would NOT kill him. And then 6 years later, my dad was dead from prostate cancer. Yes he lived until he was 83, and hubby is only 60, but whenever I hear a doctor or health care professional say something about how prostate cancer doesn't kill, I think of my Dad, and others who I know died from it. It DOES kill.
Saturday night I heard that a dear friend had passed away. He and his wife were very good friends of ours, although in recent years we had grown apart. We still ran into them occasionally at the bowling alley and I play his wife on Words With Friends on my iPhone all the time. They are wonderful people. Their daughter takes her daughter to the dance studio where I take my granddaughters, in fact I enrolled them there at her recommendation and we run into them almost every Thursday night. The daughter is the one who initially told me that her Dad had lung cancer and that was just last Fall, October....I believe. I knew he had been in the hospital having surgery after completing his chemo. And surgery, which was around a month ago, was successful, all his margins were 100% clear, so the outlook was bright,. even though his cancer was Stage 4, and there is only a 20% 5-year survival rate from that cancer. Then he had to have several more surgeries from complications of the surgery--leakage, etc. and didn't get out of the hospital for a long time, and when he did I believe he had to return the very next day. But.....we thought it was just a complication, that he would recover and survive. The results from surgery were so hopeful! And then I heard he was on a ventilator, and I knew that probably wasn't good, but still I thought, "He will be okay." And then I heard he died. It rocked me. It isn't fair. The cancer had responded to treatment, but ultimately the treatment is what killed him. His wife must be destitute. She wrote on Facebook that she had lost her husband and best friend. She said her heart was broken and she didn't know that she would ever recover. I can only imagine what she must be going through, and now, with hubby's diagnosis, it becomes all too real for me.
As you can imagine, all this is very stressful. I'm going to be strong and NOT EAT. For some reason, even when I'm scared to death and physically sick to my stomach I can always eat. Although, I'll have to admit right now, I'm not hungry at all.
Spark Friends--please support me as we struggle on our way through more appointments, consultations, tests and treatments, and probably more surgery. It was a very bad time to retire from work, because this necessitated us changing our health insurance from a premium option to a low one. But I checked this morning, and it looks like we will be able to afford our stop/loss level for the year, Thank God. You don't want to have to worry about money at a time like this. I was just reading a very comprehensive report in the new Time Magazine about health insurance and some real horror stories of people who now owe millions of dollars because health insurance was inadequate. The Health Care System in this country may be messed up beyond fixing. But nobody should suffer or even die because they can't afford health care. NOBODY!