Monday, February 25, 2013
Oh heavens to Betsy. We just returned from a wonderful family vacation in the Bahamas. We stayed at Atlantis, surrounded by 10,000 fit people in bikinis, and despite the extra pounds padding my mid-section, I wore mine too. (Nora Ephron said to wear 'em while you can, and I'm taking her advice.) I felt pretty good about the whole thing... until I returned home and started looking at the pictures. Thankfully, the Hubs didn't take many of me in a swimsuit, but he *did* take this pic of us walking the streets of Nassau, and let's just say, not having a full-length mirror allows me to pack a lot of junk in my trunk without noticing!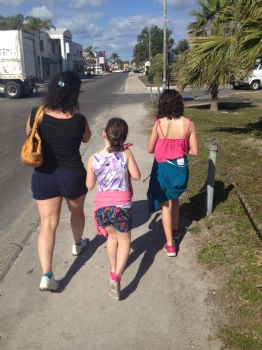 I'm going to use it as inspiration. I'm thinking of blowing it up poster size and mounting it to the refrigerator! :) Not really, but I'm going to use it as inspiration to make me enter my food in the nutrition tracker, which is even better.
Thanks for listening. :)