So.... February was a bit weird for exercise.
It wasn't a total wreck, as I kept mostly up to my running schedule. We skipped two of the runs during the toned-back recovery week in order to catch up, but now we're on top of things again, and so far I'm feeling good. Which is, in itself, amazing and spectacular and makes me want to jump up and down in delight. I ran about 5k today (with 3-and-1 intervals) on wooded trails in a park not too far from my house. I remember going for junior high P.E. class runs on the same trails, and hating them. I also remember going for occasional runs with a girlfriend on the rowing team after I graduated high school, squelching through the wet bark mulch. The trails are in better shape now, less squelchy, even though it rained all day today. It was heart-liftingly lovely.
So I'm counting February for a win in terms of exercise. But March, oh March, I'm ready for you. What I'd hoped for February, in terms of kicking my strength training into action, I wasn't ready for. Fate delivered a wonderful runner's-specific strength training program in my latest Runner's World Magazine, which I've done once and already adore. Addressing weak points with seemingly easy exercises? Yes please! Promises of stronger runs, better-firing glutes, resilience in the face of ankle-turns? Oh mama tell me more!!! This is exactly what I need!
This, and some hardcore all-over strength. And my physio for my shoulder. And my hips. So I'm adding them in. All of them. In March. Here we go.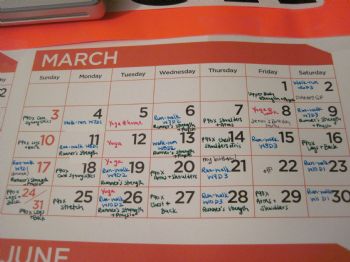 And here's this week, since that's important too:

You can see the run that we did this morning. (Sort of, fuzzily. It's the yellow-highlighter-checked-off one!) I still have my Runner's Strength to do - so off I go, in just a moment.
I need to address the other stuff first: you know, the non-exercise part of things. The tougher part. The less-fun part.
Eating. I'm going to track my food this week. I was bad this weekend. It was Max's birthday yesterday and his grandfather's memorial today, both of which meant lots of family and lots of cakes, pies, and coffee. But that's not an excuse. I could have tracked, and I could have made better food choices. I had a salad, a chicken thigh, and some soup for dinner (Max is out) so that's a good start. I've got leftover salad and soup packed for lunch tomorrow. There's greek yogurt and apples in the fridge for snacks, and even some kiwis if I want a treat. The meals are planned out for the week, and the grocery list is ready to go (but not needed until Tuesday's dinner, or maybe Wednesday's). My water bottle is washed out and ready to go back to the office. I'm planned. I'm ready.
Now please please please, let's hope I can remember to follow through!!!